After a big splash acquisition in the secondary to kick off the new league year, the Dolphins quicky went to work adding reinforcements to the second level of the defense. Linebacker David Long Jr. brings his talents to Miami Gardens, adding a multi-faceted weapon to Vic Fangio's defense.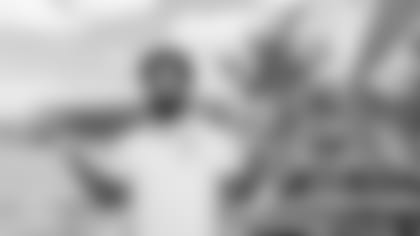 Here are five things to know about the new linebacker, David Long.
Search David Long on twitter, click the media tab and enjoy your scrolling. Many of the heavyweights in the film analysis industry are big fans of the new Miami linebacker, and it's easy to see why.
Brian Baldinger can hardly contain his excitement as he works through Long's performance against the Green Bay Packers last fall – an effort in which Tennessee held the gold and green to just 62 yards on the ground with the help of nine tackles – three for a loss – from Long.
From that same game, ESPN's Matt Bowen posted a clip clamoring over Long's fundamentals.
Doug Farrar (USA Today), thinks Long is the ideal fit for the Fangio defense.
Here's a thread of several clips that showcase Long's instincts, preparation and the variety of ways in which he can deconstruct blocks.
2. The Catalyst of the Titans Defense
Long was in the lineup for 12 games last season. He missed the final five with a hamstring injury. With him, the Titans were 7-5, surrendering only 19.9 points per game. In the five games without him, Tennessee was 0-5, allowing just under 24 points per game.
Over the 12 weeks that Long was active in 2022, he played an average of 62 snaps per game. That workload is indicative of Long's ability to play in every defensive package and excel in all facets of the defensive game. As the league continuously evolves towards specialization, a player of Long's caliber is an incredible valuable commodity.
The numbers detail a top 10 player at the linebacker position against the run, as a rusher and in coverage.
Run defense: With a 6.6 percent run stuff rate (Next Gen Stats), Long tied for the league lead with Jeremiah Owusu-Koramoah in that category.
Coverage: Opposing quarterbacks posted a passer rating of 87.0 when targeting Long last season – seventh-best among linebackers. Next Gen Stats tabbed Long Jr. with a -5.1 completion rate over expected in coverage, sixth among all linebackers.
Pass rush: Long Jr.'s 18 QB pressures were 10th among linebackers (PFF). His pressure rate of 38.3 percent, however, was tops in the league among linebackers.
4. Assuming the Leadership Role
A part-time player during his first two NFL seasons, an elevated role came with more leadership responsibilities the last two seasons (2021-22). Titans Defensive Coordinator Shane Bowen commended Long's response to that challenge.
"David has done a great job. I think his approach day in and day out, he's taken that position and that role by the horns, and he's running with it," Bowen said. "We've got some young guys in that room, some guys who came in here mid-year last year, and he's really the solidifying force in that room right now.
5. An Impressive Family Tree
Long has quite the family tree. The son of a former heavyweight champion boxer, David has a really, really large family. He talked about that among other things during an event last fall at Brown's Chapel Elementary School outside of Nashville.