The Dolphins added a new safety this offseason with the addition of DeShon Elliott. 'The Joker' is reuniting in the Dolphins locker room with a pair of former college teammates and adds another versatile weapon to Miami's defense.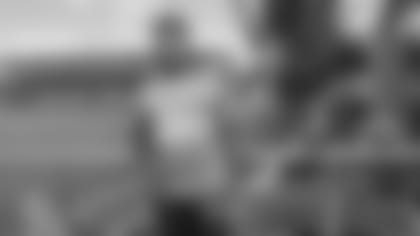 Here are five things to know about new safety, DeShon Elliott.
1. They're Raven about him, and they aren't Lion
Elliott joins Miami after spending the 2022 season in Detroit and the first three seasons of his career (2019-21) in Baltimore. He's totaled 201 career tackles (145 solo), 3.5 sacks, two interceptions, 10 passes defended, three forced fumbles and one fumble recovery. In 2022, he played in 14 games with 13 starts after his 2021 was cut short due to injury. He totaled 95 tackles (72 solo), one interception, three passes defended, one forced fumble and one fumble recovery. His 95 tackles were second on the team that season.
2. Forty Acres to Hard Rock Stadium
Elliott reunites with former Texas teammate Brandon Jones. The Longhorn duo overlapped in 2016-17 for Jones' freshman and sophomore seasons. Elliott played in 31 games with 13 starts in three seasons (2015-17) at Texas. He totaled 106 tackles (85 solo), 2.5 sacks, nine interceptions, 23 passes defended, four forced fumbles and three fumble recoveries. Following the 2017 season, he was named a Jim Thorpe Award finalist, awarded each year to the nation's top defensive back. He was also named unanimous First-Team All-American and First-Team All-Big 12. Though it was the other side of the ball, Elliott also played at Texas with Dolphins offensive lineman Connor Williams.
When he's not cooking on the field, Elliott finds ways to stir things up off of it. With a love of cooking inspired by his mother, he always told himself that when he had a family of his own, he wanted to be able to cook and have them experience gourmet meals every day. When he's done spicing up opposing offenses' game plans, Elliott said he plans to enroll in culinary school after football.
Elliott has a tattoo of the villain on his left forearm. His college coach at Texas noticed the ink and began calling him "The Joker." It stuck after Elliott returned an interception for a touchdown against USC. Less of a villain in the locker room, Elliott is known for his energy and personality. His go-to "ta-da" celebration move was inspired by the Joker in "The Dark Knight."
"Just like 'the Joker,' you never know what's going to happen," Elliott said. "We're both going to come crazy, we're both going to come wild, [and] we're going to handle our business – no matter what."
No stranger to adversity, Elliott has overcome injury throughout his career. Even when his rookie season was cut short by a preseason injury, it didn't stop Elliott from being a sponge. He learned from veteran mentors Eric Weddle and Tony Jefferson. Weddle's mastery of the playbook stood out to Elliott as a rookie and shaped his mentality.
"He was a master when it came to the playbook," Elliott said. "He knew exactly what was going to go on. Every play during the game, he could tell everybody what to do on their assignments. I strive to be that great. I strive to be that mentally tough. I strive to be that smart in this game of football."