The Dolphins are adding an experienced and well-rounded tight end who has made plays in both the run and pass games. He's also a special teams contributor.
Here are five things to know about new Dolphins tight end Eric Saubert.
Saubert joins the Dolphins after a two-year stint with the Denver Broncos. Known as a solid blocker, Saubert has also displayed ability as a pass catcher. He totaled 15 receptions for 148 yards (9.9 avg.) and one touchdown in 2022. In another phase of the game, Saubert also totaled five special teams tackles (three solo) and one fumble recovery. In Week 17 at Kansas City, Saubert recovered a fumble forced by Alex Singleton on a Chiefs punt return.
Saubert's previous stops include Denver (2021-22), Jacksonville (2020), Chicago (2019) and Atlanta (2017-18). Prior to joining his hometown Bears in the middle of the 2019 season, he also spent time on the Las Vegas practice squad and with New England in the preseason. He's worked with several current Dolphins coaches, such as defensive coordinator Vic Fangio, who was the head coach in Denver in 2021, and offensive coordinator Frank Smith, who was the tight ends coach with the Raiders in 2019.
The Chicago native spent four seasons as a Drake Bulldog in Des Moines, Iowa. There, he developed his ambition, passion and perfectionism in the weight room. Saubert gained more than 50 pounds of muscle between his freshman and senior years. After redshirting his freshman year, he earned four consecutive All-Pioneer Football League honors. Saubert was named first-team All-PFL as a redshirt freshman, junior and senior (2013, 2015-16). He received honorable mention All-PFL honors his sophomore season in 2014. He earned a third-team FCS All-American nod in 2015. In 41 games as a Bulldog, Saubert totaled 190 receptions for 2,253 yards (11.9 avg.) and 21 touchdowns. He became the first Bulldog to be drafted since 1983.
Born in Chicago, Saubert attended Hoffman Estates High School, just under 40 miles away from Soldier Field. As an Atlanta Falcons draft pick, Saubert made his NFL debut against his hometown team in the season opener in 2017.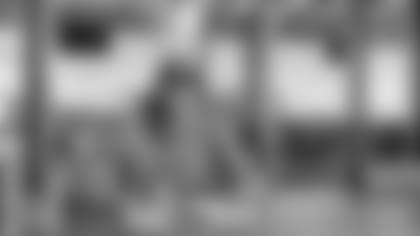 Saubert is an avid dog lover and has a Husky named Abe. in 2021 and 2022 with the Denver Broncos, he selected Dogs for Better Lives as his My Cause My Cleats initiative, a platform designed for NFL players to showcase charitable causes important to them by wearing custom-designed cleats in support of their chosen organizations.
For more analysis on Eric Saubert, download the Drive Time Podcast with Travis Wingfield.