The Dolphins are adding more experience and talent to the signal-caller position. Former Jets quarterback Mike White has signed with the Dolphins, rounding out an intriguing QB room with Tua Tagovailoa and Skylar Thompson.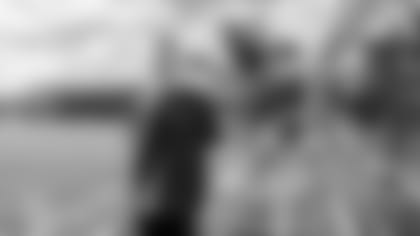 Here are five things to know about the new Dolphins quarterback, Mike White.
Mike White burst onto the scene in 2021 with a game for the ages. A 405-yard passing day helped the Jets beat eventual AFC champion Cincinnati, doing so behind the 10th-most prolific aerial display in Jets franchise history.
In his first start of the 2022 season, White went off again. He posted a 149.3 passer rating in a romp over the Chicago Bears, earning the starting job going forward. Unfortunately, an injury cut that run short after just four starts.
White's completed 62.2 percent of his career passes for an average of 7.0 yards per attempt and a passer rating of 75.4.
The backup quarterback holsters plenty of responsibility. In addition to helping the starter get ready for Sunday, he needs to be able to come off the bench cold and direct the offense to points, and the team to a victory. When the Jets turned to White midseason 2022, he provided that spark.
Prior to White's insertion to the lineup, the Jets were averaging 19.9 points per game. That number jumped to 23.0 per game over the next three weeks with White playing.
In addition to his on-field accolades, White is also popular with his teammates. He earned the admiration of the Jets roster with his performance and the way he conducts himself. Prior to the Jets road trip to Minnesota, a crowd of Jets players can be seen wearing custom-made Mike White t-shirts.
No offensive system is the same, but there are general concepts that overlap. Playing for the Jets under former offensive coordinator Mike LaFleur creates some of that carryover. LaFleur worked with Dolphins head coach Mike McDaniel at three previous stops (Browns, Falcons and 49ers).
Those offenses are branches from the Mike Shanahan tree. White's two years of experience in LaFleur's system may help accelerate the learning curve under McDaniel in Miami.
We saw starting quarterback Tua Tagovailoa relentlessly attack the intermediate portion of the field all year in 2022. That 10-19 yard area was also where White shined brightest. He averaged 12.4 yards on such throws in 2022 with a passer rating of 116.1.
5. Back to Where it All Began
Born in Pembroke Pines, White played his high school football at the NSU University School in Davie. Visit White's Twitter profile for a great photo of his beautiful family, but also the avatar of him as a child rocking a classic throwback Dolphins t-shirt.