Walt Aikens has become one of the best special teams players in the NFL, but he continues to look for more than that.
Put simply, Aikens wants to be known as a defensive player first.
"I feel like if you put me out there on the field, I can play wherever," Aikens said after the Dolphins OTA on Tuesday. "I don't try to limit myself with a title, especially 'special teams player' because I'm a DB before anything. My ultimate goal is to get out on the field and ball out, showing what I've really got. It's been a long journey these past four (years), going on five now. I'm just trying to do whatever I can to help this team win."
Aikens has played both safety or cornerback for the Dolphins, though his playing time on defense has been limited.
Head Coach Adam Gase is hoping that can change, even though Aikens always figures to have a prominent role on special teams because he's so good at it.
"That's his starting point," Gase said. "We're always trying to take guys who are excellent on special teams and try to find a role for him on defense. He's worked extremely hard to try to find that role on defense. He's a really good tackler. He's a guy you can rely on to get the ball carrier down."
Aikens said he has been working exclusively at safety during his offseason program, but can move to cornerback if needed.
A fourth-round pick in the 2015 NFL draft, Aikens said his best football remains ahead of him.
"It's a lot I haven't shown you yet, just with the limited snaps I did get," he said. "But I've gained more confidence in myself. I feel like I fell off confidence-wise the past couple of years, but I'm coming back in refocused, refreshed, full of confidence, full of energy and just ready to ball up.
"I know I can ball. I know I can play. It's just about getting on the field and when the opportunity comes, show up."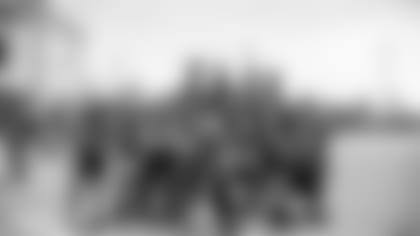 Aikens' PALs: Aikens did a media session Tuesday accompanied by members of the North Miami Beach Police Athletic League program. It was fitting, as Aikens recently became a national spokesperson for the National PAL. Jeff Hood, the PAL Chief Executive Officer, has known Aikens since he took part in the program as a child in Charlotte, North Carolina. "Couldn't be more proud of him, not just from the athletic side but the type of person that he is," Hood said. "He's so willing to give back. We're so excited to have him being named one of our national spokespersons to be a good representation piece of who and what we are and what we inspire our young people to be." Aikens said he still maintains relationships with some of his teammates from PAL. "I felt like it was the best way to give back, me going back to these local communities and showing these kids that no matter where you are or where you're from, you can always make it," he said.
Practice report: Along with members of the North Miami Beach PAL, former Detroit Lions running back Kevin Smith watched practice. Smith, now the running backs coach at FAU, was with the Lions with three members of the Dolphins coaching staff — Matt Burke, Kris Kocurek and Tony Oden. … Cornerback Tony Lippett had perhaps the highlight of practice with a pick-six. … Ryan Tannehill had a long completion of about 70 yards to Danny Amendola. … Second-round pick Mike Gesicki made an acrobatic, juggling catch after a pass was tipped by first-round pick Minkah Fitzpatrick. … Guard Josh Sitton, wide receiver Leonte Carroo, cornerback Jordan Lucas and tight end Thomas Duarte all were missing from practice.
Baker ready to battle: Rookie linebacker Jerome Baker's Twitter feed features several motivational lines, perhaps none more noteworthy than his pinned tweet: "Please don't fight my battles I need these scars." Baker explained Tuesday the origin of that tweet. "I made that one up quite a long time," he said. "It's pretty much how I need that struggle, I don't need anybody to take it for me. That was pretty much my whole college career, coming in as a freshman, being behind some first-rounders, Raekwon (McMillan), all those guys. They just sat me down, said, 'You need all the pressure, all the hard times you go through and it's going to pay off in the end.' Obviously it did and I kind of just stick to that. The hard times are going to come, but they're not going to last." Baker said the hardest time came during his freshman season at Ohio State when he came in as a highly touted recruit but quickly learned college football wasn't going to be as easy as high school football. He's applying the lessons learned then to his situation now as a rookie in the NFL. "I've been through it before, so I know it's going to come and it's going to go," he said. "Just take advantage of it and try to learn as much as you can."
New kid in town: Defensive tackle Akeem Spence has been with the Dolphins for a little more than a month, but there's little question he can be someone for the younger players at his position to look up to. Not only is Spence older than Jordan Phillips, Vincent Taylor and Davon Godchaux, he's also got experience with new defensive line coach Kris Kocurek from their time together in Detroit. For Spence, having Kocurek around and playing in the same scheme has made the transition much easier. "This defense is pretty much similar to what we ran in Detroit minus the terminology here and there," Spence said. "Hit the ground running, picked up where I left off last season and just fine-tuning every day getting ready for the season, getting ready for training camp." Kocurek said early in OTAs his plan was to rotate his defensive linemen, and Spence said he was hoping for a 50-50 split among the defensive tackles. Spence entered the NFL with comparisons to Hall of Famer Warren Sapp, but he never bought into those comparisons — then or now. "I'm just me," Spence said, "every year trying to get better."