The Dolphins wrapped up their offseason program Thursday with a practice inside the bubble at the Baptist Health Training Facility at Nova Southeastern University.
The 10th and final OTA practice ended with a touchdown pass from Ryan Tannehill to DeVante Parker in a team drill.
Head Coach Adam Gase said what he took out of the offseason program related more to the mental aspect of the game.
"You figure out who can compete the right way, stay off the ground, do the right things, what are some decisions that you do have to make with certain looks if you're on the offensive side," Gase said. "Same thing with the defense. It's been productive for us."
Dolphins veterans now will have time away from the training facility until they report for training camp in late July. Rookies will be around for a few more days as part of the NFL's rookie transition program.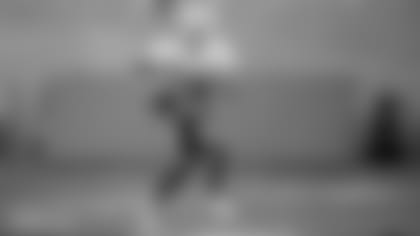 Following Fales: Quarterback David Fales had perhaps the highlight play of practice Thursday when he threw a 50-yard pass to Jakeem Grant down the middle. Fales, who got extensive playing time in the 2017 season finale against the Buffalo Bills, looked sharp in every spring practice open to the media, and Gase discussed his comfort level with him after the OTA on Thursday. "After that last game, I was feeling good," Gase said. "And by bringing Dowell (new offensive coordinator Dowell Loggains), he had been with him before (in Chicago). He saw the improvement that a lot of us were talking about." That said, Gase said he was looking for a strong training camp competition for the No. 2 quarterback job among Fales, Brock Osweiler and Bryce Petty. "By adding Brock and then Bryce, I think it's been a good competition," Gase said. "That's really what we're going to be doing into training camp. We're just going to let those guys compete and see how it plays out."
Tunsil's daily challenge: A hot topic among the media in recent days has been the incredible "bend" of new defensive end Robert Quinn, and there's no offensive lineman who has seen it more often this spring than left tackle Laremy Tunsil. "Have you all seen his bend?" Tunsil said. "Man, he touches the ground with his knee to get up. I don't know how he does it. He's a freak athlete. It's crazy." Tunsil faced Quinn during his rookie season in 2016 when Quinn was with the Rams, but having the benefit of going up against him every day in practice is a great benefit for the Dolphins' 2016 first-round pick. "I'm glad I'm going against a person like RQ," Tunsil said. "He gets me better every practice. Coming off the edge like he does, he's one of the best pass rushers in the game, for sure."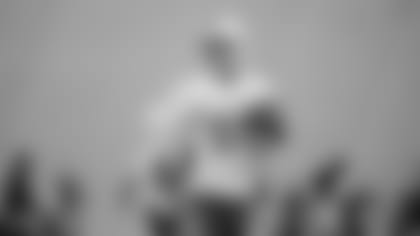 Tight end free-for-all: With the two tight ends who started games last season no longer on the roster, there should be quite the competition at that position this summer. Among the competitors will be MarQueis Gray, who will be entering his third season with the Dolphins as the longest-tenured tight end on the roster. "It's my sixth year (in the NFL)," Gray said. "Every year I've been in competition with somebody. I've either had a guy that was already signed or they brought in some all-star guy, like they did last year. So for us to have an open spot this year is pretty rare and we're all competing. May the best man win." Gray, who started seven games for the Dolphins in 2016, will be battling A.J. Derby, Gavin Escobar, Thomas Duarte and rookie draft picks Mike Gesicki and Durham Smythe. Gray said the players split first-team reps during spring practices. "They just want to give the guys different looks and see how well we prepared and stuff we're ready for. We're all moving around. You can't just study for one (tight end) position. We've all been moving around this offense so far, which is pretty quick."
James' aim: Tackle Ja'Wuan James has been hit by bad luck in recent years, and he's hoping that run ends in 2018. James was limited to eight games last season because of a hamstring injury that landed him on injured reserve; he was limited to seven games in 2015. Being healthy and available for every game is what's on James' mind these days. "I'm really just focused on this season being better, coming back from this hamstring and getting myself to 100 percent," he said. "I'm just trying to get better every day and I'm just focused on coming back from this injury and being a whole better, being 100 percent and finishing this season."