INDIANAPOLIS – Here were some of the noteworthy comments from the 2019 scouting combine media sessions Thursday, along with some perspective:
"I just feel I'm the best. I never want to put anyone ahead of me."
— Florida tackle Jawaan Taylor was asked where he thought he ranked among the prospects at his position, and he gave the kind of answer prospects often give, one that shows a lot of confidence. Taylor was second among offensive lineman in NFL analyst Daniel Jeremiah's initial ranking of the top 50 prospects in the draft, behind only Andre Dillard from Washington State.
"If Barry Sanders can do it, I feel I can do it. We're the same size."
— This is how FAU running back Devin Singletary answered a question about concerns about his durability. Singletary's official measurement at the combine was 5-7, 203 pounds, similar to Sanders' 5-8, 200. It's quite a comparison, of course, though it's hard to argue with Singletary's college production, which included 4,287 rushing yards and 67 touchdowns in only three years.
"I could have gone the boxing route, but the passion for football was too much for me."
— Georgia running back Elijah Holyfield boxed from the age of 8 to 13, which is not surprising considering his father is former heavyweight champion Evander Holyfield. Elijah said his love for football eventually won out, and now he's hoping to follow former college teammates Sony Michel and Nick Chubb as a high NFL draft pick.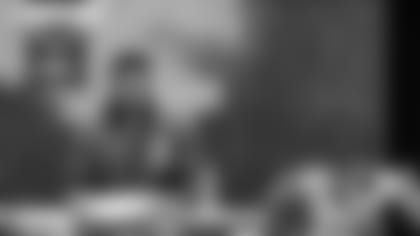 "Growing up with a name like Michael Jordan, everyone expects you to play basketball. And me being tall? Everybody wanted me to play basketball, but I love football."
— Ohio State center Michael Jordan says he goes by Michael or M.J., even though he officially was listed as Mike Jordan at the combine. Jordan has lined up at both guard and center at Ohio State, though he said NFL teams have told him his future is at guard. As for his basketball prowess, Jordan said he's exactly "terrible" at that sport.