Miami, FL – The Miami Dolphins announced their PlayFootball Week 6 award winners in a program designed to celebrate youth football in South Florida. For each home game, the Dolphins will identify a high school coach of the week, high school player of the week, youth player of the week and team mom of the week. Award recipients will receive tickets to a Dolphins home game, be presented with a plaque on the field at Hard Rock Stadium and receive acknowledgement of their accomplishment in the game program and through the Dolphins' social media platforms. The Dolphins also will recognize a team of the week who will be on field during the national anthem.
The program concludes at the Dolphins-Jaguars game where the Dolphins will honor yearly award winners in all categories with the exception of the team of the year.
High School Coach of the Week: Brian Coe from Santaluces Community High School. The Chiefs have won four straight games after dropping the first two games of the year. The team went 5-25 in the three years before Coe's arrival to the school and they have already surpassed last year's win total of three games.
High School Player of the Week: Jaylan Knighton Jr. from Deerfield Beach High School. The University of Oklahoma commit rushed for a school-record 26 times for 348 yards and four touchdowns to lead the Bucks to a 44-8 victory over Taravella.
Youth Player of the Week: Termain Sherman from the Fort Lauderdale Hurricanes Super Peewees of the Florida Youth Football League. Sherman averages six solo tackles and four forced fumbles per game. He is a very passionate football player for his age (6) and loves the game of football just as much as he love schools.
Team Mom of the Week: Consuelo Lewis from the Pompano Chiefs from the Florida Youth Football League. Lewis has been a dedicated parent and volunteer for the Pompano Chiefs for many years. She is always at practices and games and makes sure the boys have everything they need. Lewis' presence in the park has been evident since she became a team mom and even overcame her bout with cancer.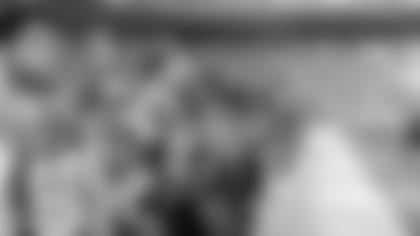 Team of the Week: Suncoast Community High School
The Junior Dolphins program encourages youth players and coaches to learn, teach and play football in a fun and safe environment. The Junior Dolphins program is designed to give kids access to learn the fundamentals of football using the NFL's top resources. To grow the game, the Junior Dolphins program will work to educate coaches, parents and youth on the health and safety of football with a strong emphasis on character development. Junior Dolphins is building the next generation of Dolphins Fans.
Table inside Article

| | HS Coach of the Week | HS Player of the Week | Youth Player of the Week | Team Mom of the Week | Team of the Week |
| --- | --- | --- | --- | --- | --- |
| Week 1 | Dave Coleman - Piper HS | Nay'Quan Wright - Carol City | Keymari Robiou - Miami Xtreme 11U | Brenda Aldana - Miami Xtreme 13U | Marjory Stoneman Douglas |
| Week 3 | Nate Hudson - South Dade | Nik Scalzo - Cardinal Gibbons | Jamarie Hostzclaw - Weston Warriors | Laurie Richardson - Boca Braves Peewee | South Miami |
| Week 6 | Brian Coe - Santaluces | Jaylan Knighton Jr. - Deerfield Beach | Termain Sherman - Fort Lauderdale Hurricanes | Consuelo Lewis - Pompano Chiefs | Suncoast Community |