MIAM GARDENS, Fla. – On August 3rd, the Miami Dolphins hosted 101 teams from Miami-Dade, Broward and Palm Beach counties at their seventh annual High School Media Day at Hard Rock Stadium. The event is designed to develop high school athletes off the field through media training and interview experience. High School Media Day also is catered to South Florida media, giving them an opportunity to interview and interact with the rising stars in the region.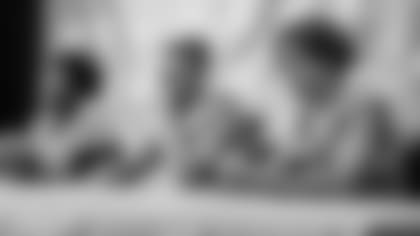 Each team held a three-minute press conference with the head coach and three players. Following the press conference, the entire team was available for one-on-one interviews and photos.
"This year's high school media day featured our highest engagement yet and we were proud to host these teams at Hard Rock Stadium," Miami Dolphins Youth Programs Ambassador Twan Russell said. "We want to thank all of the media that took part and helped the coaches and players with practical interview experience in preparation of the upcoming season. This experience was invaluable for all of our student-athletes from Miami-Dade, Broward and Palm Beach."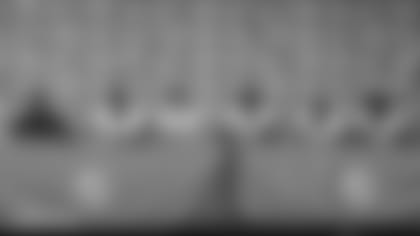 The Junior Dolphins program encourages youth players and coaches to teach, learn and play football in a fun and safe environment. The Junior Dolphins program is designed to give kids access to learn the fundamentals of football using the NFL's top resources. To grow the game, the Junior Dolphins program will work to educate coaches, parents and youth on the health and safety of football with a strong emphasis on character development. Junior Dolphins is building the next generation of Dolphins Fans.
This event is one of the DolphinsHuddlefor100 service projects as part of the NFL's 100th celebration. The NFL has invited fans, players, clubs and employees to join Huddle for 100, an effort to inspire 1 million people to volunteer 100 minutes of their time to make meaningful contributions to their communities. Participating teams at High School Media Day packed meals that were donated to Feeding South Florida to help in the efforts to end hunger. These activities connect to the Miami Dolphins initiative to level the playing field through the power of teamwork to inspire a healthier, more educated and united South Florida community. For more information on the NFL Huddle and to see volunteer opportunities with the Dolphins, visit https://www.miamidolphins.com/community/specialteams.