Here were some of the comments from Wednesday that stood out, along with some perspective:
"He just has to keep coming along and become that all-around corner, which we've all seen him do. I think he's really close, though. Last week was impressive."
— Head Coach Adam Gase said Xavien Howard is almost at the point where he needs to be considered as a "shutdown cornerback." Howard is coming a two-interception game against the Colts, the fourth time in his three-year career he had two picks. Gase said he's seen Howard do all the things an elite cornerback does and now it's just a matter of doing it on a weekly basis.
"I feel like I'm 90 compared to my rookie year. Don't remember a whole lot of specifics."
— Quarterback Ryan Tannehill got a laugh from the media assembled for his weekly press conference with his reply to being asked if he remembered opposing defenses making an extra effort to disguise coverages when he was a rookie. The question, of course, was asked because of the opposing quarterback this week, Buffalo's Josh Allen. While he didn't remember specifics, Tannehill pointed out it's only logical for defenses to try to make things as confusing as possible for a rookie quarterback, who obviously hasn't seen as many things as a veteran.
"Just making sure that we as an offensive line act as a unit no matter who's in there is kind of a really big deal."
— Guard/center Jake Brendel who got the start at left guard against Indianapolis last Sunday before moving to center after Travis Swanson was injured, stressed the importance of communication among the offensive line regardless of who's in the lineup. Head Coach Adam Gase said Wednesday the team was looking at various combinations in preparation for the game against Buffalo.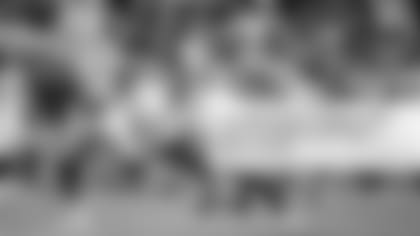 "I'm humbled for the opportunity. I've been working extremely hard. It's now trying to help this team win."
— Wide receiver Isaiah Ford clearly is excited about being promoted from the practice squad to the 53-man roster, but he understands he's now got to deliver for the offense whenever his number is called.