The offensive highlight in the game against the Minnesota Vikings on Sunday was rookie **Kalen Ballage's** 75-yard touchdown run in the third quarter, which continued the Dolphins' trend of long scoring plays in 2018.
Ballage's run was the sixth-longest in franchise history, behind only a 97-yard run by Lamar Miller against the Jets in 2014, an 85-yard run by Miller against Houston in 2015, Keith Byars' 77-yard run against Dallas on Thanksgiving Day 1993, Leroy Harris' 77-yard run against Baltimore in 1977, and Reggie Bush' 76-yard run against Buffalo in 2011.
Ballage's run was the seventh-longest in the NFL this season and the third-longest by a rookie, behind a 92-yard run by Cleveland's Nick Chubb and a 78-yard run by the Giants' Saquon Barkley.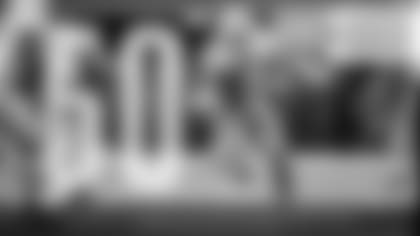 The 12 long touchdowns include six passes, three runs, one kickoff return, one punt return and one interception return.
The Dolphins easily lead the NFL this season in touchdowns of 50 yards or longer. The San Francisco 49ers are second with eight, followed by the Kansas City Chiefs and Tampa Bay Buccaneers with six apiece.
Ballage's touchdown followed runs of 54 yards by **Kenyan Drake** against the Detroit Lions in Week 7 and Brandon Bolden against the New England Patriots in Week 14. This is the first time since 1977 the Dolphins have had three different players with a touchdown run of 50 yards or longer in the same season. Leroy Harris (77, 52), Benny Malone (66) and Gary Davis (60) did it that season.
Ballage's run paved the way for a 123-yard rushing performance, the highest total for a Dolphins running back since Oct. 15, 2017 when Jay Ajayi had 130 yards against the Atlanta Falcons.
It was the first 100-yard rushing game by a Dolphins rookie since 2011 when Daniel Thomas had 107 yards against Houston in Week 2.
Finally, Ballage's rushing total was the sixth-highest ever for a Dolphins rookie, behind the 169 yards by Troy Stradford against Dallas in 1987; 152 yards by Karim Abdul-Jabbar in the second game against the Jets in 1996; 140 yards by Leroy Harris in that 1977 game against Baltimore; 132 yards by Ronnie Brown against Carolina in 2005; and 124 by Abdul-Jabbar in the first game against the Jets in that 1996 season.