DAVIE, FL – The Miami Dolphins through their Football Unites program, partnered with the National Organization of Black Law Enforcement Executives (N.O.B.L.E.) South Florida Chapter to host a backpack distribution for kids from Miami-Dade, Broward and Palm Beach counties at the Baptist Health Training Facility at Nova Southeastern University.
Following their first training camp practice of the season, Miami Dolphins players Jesse Davis, John Denney, Lucas Gravelle, Matt Haack, Rubens Joseph, Greg Joseph, Eric Smith, Laremy Tunsil, Jason Sanders, Jonathan Woodard and Gabe Wright joined forces with N.O.B.L.E. and the Miami Dolphins Women's Organization (MDWO) to distribute more than 450 backpacks and school supplies for the upcoming school year.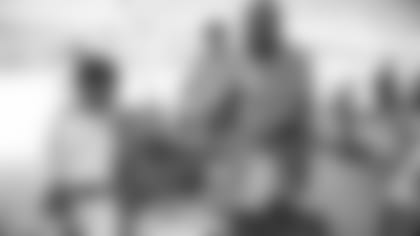 "I love playing for a team that gives a lot of opportunities to give back, giving back is a big thing for me," Dolphins OT Laremy Tunsil said. "We're on the field, and off the field we are helping level the playing field. Giving back to these kids is something special."
As a beneficiary of the Football Unites program, the Miami Dolphins collaborated on this event to commence N.O.B.L.E.'s 42nd Annual National Conference in an effort to promote a better South Florida community and further level the playing field.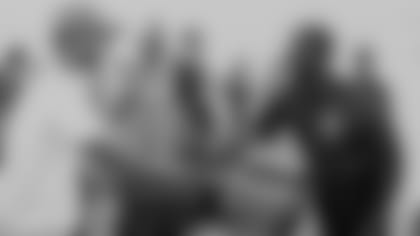 "N.O.B.L.E.'s partnership with the Miami Dolphins gives us the opportunity to live up to our theme for this 42nd Annual National Conference, which is collaboration through unity," N.O.B.L.E. South Florida Chapter President Major Tim Belcher said. "We are collaborating and unifying ourselves with different organizations, especially the Miami Dolphins, and we thank them whole heartedly for their efforts and inviting us here, to their house, to bring the community this event to give book bags to the kids."
The goal of NOBLE is to act as a leader in public service by providing solutions to law enforcement issues, concerns and the changing needs of the community. Coinciding with the team's Football Unites initiative to empower and engage organizations that emphasize community engagement, education and justice reform, the Dolphins selected N.O.B.L.E. earlier this year as one of eleven grant recipients for the 2018 season. Created in November 2017 by Owner Stephen Ross and Dolphins players, these grants will provide funds for South Florida-based groups to strengthen and expand their impact around community engagement, education and justice reform.