They each have their own unique story, a path that led them to where they were last Friday morning, sitting at tables under the big practice bubble at the Dolphins training facility as members of Brian Flores' first coaching staff.
But as much as their journeys differ, they now share a common bond that was so evident in listening to each one of them talk, a bond that has so much to do with a deep respect for Brian Flores and a shared vision on how to build this team the right way.
Perhaps my biggest takeaway after listening to the three new coordinators and the new assistant head coach is that this will be a team constructed with flexibility in mind. It isn't about the type of offense or defense they will run as much as it is what team they are playing that week and what specific challenges they will confront.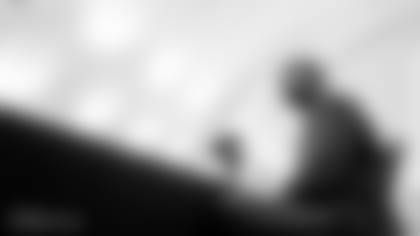 The face of this team could very well change on an every Sunday basis and that ability to adjust, to improvise and to utilize every different skillset of each player is the identity that they want to create.
The challenge now is twofold: Finding which current players fit into that blueprint and bringing in new players who do as well. That's the only way this is going to work and this evaluation process is what has consumed this staff over its first few days on the job. Who checks the boxes? Who doesn't? It is a search that will continue well into the offseason.
But let's not get too far ahead of ourselves. This day under the bubble was about first impressions and I certainly formed a few after listening to Assistant Head Coach Jim Caldwell, Offensive Coordinator Chad O'Shea, Defensive Coordinator Patrick Graham and Special Teams Coordinator Danny Crossman.
He is the voice of experience, a 64-year-old former head coach with the both the Lions and Colts who has 41 years of coaching on an impressive resume and whose hiring made sense on so many fronts. Foremost it made sense because of what he can provide to this predominantly young staff and that's guidance and leadership and the ability to help Flores adjust to the enormity of his job.
"I'm here to help anyway I can," Caldwell said last Friday. "But truthfully, Coach Flores doesn't need much help. He is already excellent at what he does and has a great vision for how to build a football team."
Caldwell is clearly rejuvenated by this opportunity. He spent last season out of football for the first time in his adult life. While he cherished the traveling and the time he spent with his family, it only enhanced his love and desire to continue coaching. Needless to say, it didn't take long to say yes when Flores called.
My take: Caldwell has coached Peyton Manning. He has been a part of two Super Bowl winning coaching staffs. He brings with him a wealth of knowledge that will prove invaluable here. He is exactly what this staff needed.
He coached with Flores for the past nine seasons with the Patriots and early on O'Shea could see a head coach in the making. "The first time you meet him you realize there is something different about him," O'Shea said of Flores. "The presence, the consistency. Great listener. He holds you accountable. You could tell he's a leader."
O'Shea embraced the opportunity to follow that leader to the Dolphins. He will be a first year offensive coordinator, which means he'll be calling plays for the first time as well. But the experience he gained with the Patriots, the success he enjoyed and the players whose careers he affected clearly prepared him for this role.
What he learned in his time with the Patriots and the vision he shares with Flores is to create an offense with multiple looks, an offense that is resilient enough to come at you all sorts of ways. Back to that catchword: Flexibility.
"We are going to use every strength (the players) have and identify it," he said. "Do whatever is required to be successful."
My take: It's going to be fun watching what O'Shea does with this offense and how he creates interchangeable parts. After listening to him, after hearing the passion in his words and the confidence in his beliefs, it is clear he is ready for this step.
Will the first-year defensive coordinator play a 4-3 or 3-4 defense? "Yes," came the reply and that one word answer said so much. Just like O'Shea on offense, Graham will not be pigeon holed into one alignment.
You'll see some 3-4. You'll see some 4-3. You may see some formations that you haven't seen before. "If it requires all 11 to be down in a three-point stance, it'll look weird, but we'll do it if that's what we think is going to win the game," he said.
It is no coincidence that Graham's philosophy is in perfect alignment with that of Flores. They shared an office together in New England. Spent many late nights working on game plans and digging deep into each other's thinking. What they built during those long hours was a trust and a mutual respect that is still so evident today.
My take: When Flores got the job with the Dolphins, hiring Graham was an easy decision. This defense will benefit greatly because of their combined efforts and shared beliefs.
He knows the AFC East, but not from the Patriots perspective as is the case with so many members of this staff. For the past six years, Crossman has coached special teams for the Buffalo Bills.
"The familiarity is always going to help," Crossman said. "I think the difference is, now that you are going to be in that room with those players, is taking those same things that you were worried about defending and then building on how we can use those strengths to our advantage."
Crossman got to know Flores back when Flores was an assistant special teams coach with the Patriots. They shared ideas in the offseason, of course never giving away too much. But they did see how their philosophies were in synch and this is how new opportunities are born.
My take: It's always challenging replacing someone who had been here as long as Darren Rizzi, but Crossman seems well equipped to do it. His knowledge of this division in general and the Dolphins in particular has to be considered a huge plus.