That is how **Frank Gore** explains it. Ask him how he does it, how a 35-year-old man with two scars from major knee surgeries years ago can still be playing at the highest of levels, can still run through and sometimes even around you, and Gore responds over and over again with those same three words.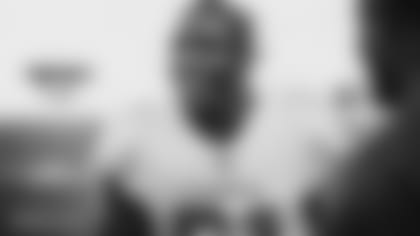 Maybe he's on to something here. How else could it possibly make sense? How else could he be doing what he is doing for the Dolphins this season?
Look at his career. Look at the road he has travelled, the yards he has gained, the remarkably good health he has maintained. And now he is still doing it, bending down low on a third-and-18 play against the Jets, sidestepping a couple of defenders and running over another one on his way to a 19-yard gain and a huge first down.
No doubt Frank Gore is blessed and so are the Dolphins to have him, yes even at this late juncture of his career. Actually, especially at this late juncture of his career.
It was after the victory over the Bears, the 46th 100-yard rushing game of his career, when offensive tackle **Ja'Wuan James** approached Gore by his locker.
"I just wish I could have been blocking for you 10 years ago," he told Gore.
Gore, not one for long-winded responses, looked up and smiled. "You got me now. Let's keep it going."
A few days later, James was telling this story, no doubt feeling fortunate to have a special close-up view of this sure thing Hall of Famer.
"I mean he just brings it on every play," James said. "I mean EVERY play."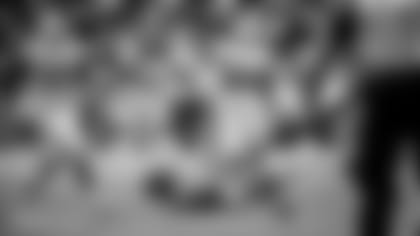 There are certainly some compelling storylines encompassing this team right now, stories that have so much to do with tenacity, resiliency and resolve. But from this vantage point, there is no more compelling story than what Frank Gore is doing in his 14th season in the league.
"An old school warrior," is how Adam Gase describes him.
But coming home to play was never intended to be about sentiment or finishing the journey where it began. Gore never doubted he would help this offense. Who could have imagined, though, that he'd be helping it to this degree? Through seven games, he is leading the team in carries and yards, starting every game, his career rushing total now at 14,358 yards, good for fourth on the all-time rushing list behind only Emmitt Smith, Walter Payton and Barry Sanders. That's what you call exclusive company.
"As you get older, and you keep playing this game, you have to respect it," Gore says. "You can't think about age. You have to continue like you're a young man out there."
On this day, Gore is standing by his locker, proudly wearing a T-shirt that simply says: "Forever Grinding." It was the perfect T-shirt, the perfect way to capsulize his career in just two words.
"Think about my whole career," he says, his mind racing back through the years. "You think when I went to Miami, I played as a freshman. I go in and compete to be a starter. I tear my ACL, come back, I start, get off to a couple of good games and then get hurt again. You hear everybody saying, 'Oh, he's done.' I get drafted in the third round. People still said I got drafted too high, saying I'll only play three years. But I'm still playing now. So (Forever Grinding) means a lot. Yeah, it does. The way I've been raised, the way my career has been going. So, yeah, it means a lot."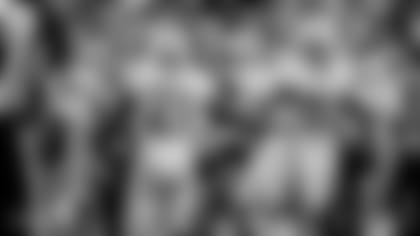 Two lockers down from Gore is rookie running back **Kalen Ballage**. He's known all about Gore since he was a young kid when he studied great running backs. Now, he is so close to him, he can listen to everything he says, absorb everything he does.
"I know what greatness looks like," Ballage says. "Someday I'm going to tell my grandchildren that I knew Frank Gore."
Survey this locker room, ask his teammates what Gore does best, and there are so many different opinions. How he practices. How hard he runs. How he approaches every day. How he never loses his focus. How he is just one tough hombre.
"For me," Ballage says, "it's how he is able to adjust his body at the last possible second to avoid direct contact. Watch the tape. Defenders just don't get a clean shot at him. It's unbelievable how he does that and it's probably why he's made it this far."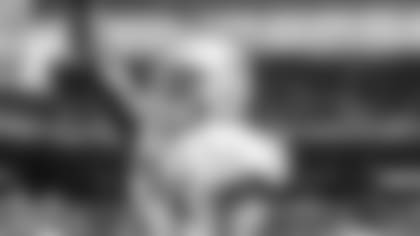 Made it this far and has shown no real signs of slowing down. That's the incredible part. You're not supposed to be doing what he's doing at 35 years old. Certainly not at a position as physically demanding as running back. What we have here is The Exception, an oh-so-rare example of a player defying time, a player who plain and simple refuses to act his age.
We haven't seen a player quite like Frank Gore before. In truth, we may never see one like him again.
"I like challenges," Gore says. "I just take it one game at a time, one year at a time."
And so he marches on, racing through the record books with each carry, running as hard and true as he ever has, baffling the experts who insist it shouldn't be happening, and all the while knowing deep down that there really is a very simple explanation for it all.