On the final day of his 29th year and a few minutes after the first practice of his seventh training camp with the Dolphins, Ryan Tannehill stood near the middle of the field, throwing short underhand passes to, by far, his favorite receiver.
And Steel Tannehill, a few days past his second birthday, caught just about every pass.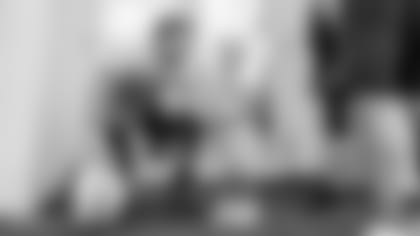 "It's fun having the little guy out here," said Tannehill, who later admitted "it's crazy" to think he will turn 30 years old today.
But the fun will be limited to small portions, maybe a few minutes after practice, for the next several weeks. As much as he adores fatherhood, as much as he relishes the thought of a second child now on the way, Tannehill understands the importance of this moment and a career that could certainly use a breakout, and healthy, season.
He has come a long way to get where he was in the stifling heat of Thursday morning. The surgery. The long rehabilitation. One Sunday after another watching from the sideline, trying to be patient, trying to absorb as much as he possibly could. You just know it tested his patience and perseverance. Probably tested it every day.
Now, though, that seems like so long ago. The only reminder these days of the surgery and the rehab is a brace that he wears on his left leg strictly for precautionary reasons. There is no sign of anything out of the ordinary, something evidenced over and over in offseason workouts.
But Thursday was another step in the process. He made it through the first practice of the summer with ease and confidence, his passes fast and true, his footwork and mechanics working in perfect harmony.
"Everything," he says, "now seems like second nature."
Could there possibly be any better news than that in the final days of July?
But this isn't a one-day story. This will be an ongoing theme during training camp. When he puts on pads. When he takes his first hit. When he gets in his first preseason game. When he scrambles the first time against an opposing defense, quickly changing directions. Everything will be scrutinized. Guess that's the way it should be when you're the most important player on the team.
As for Tannehill himself, the significance of every healthy day is no longer taken for granted. "There is a different humbleness about the moment because it got taken away from me last year," he said. "Stepping back like this, I've grown a lot as a leader and as a football player."
We saw that growth in a video that was recently released, showing Tannehill – to music and in slow motion – throwing to some of his receivers during an offseason workout.
There was no poignant message. Just a way of reminding us that football season was almost here and that the quarterback position was once again in good hands. I'm pretty sure that video wouldn't have been made a few years ago. But this is a different Tannehill, far more at ease with who he is and the role he plays, both on a team and in a community.
Now he enters perhaps the most pivotal season of his career. Before his injury late in the 2016 season, Tannehill was on his finest six-game run. Everything appeared to be working. The challenge now is picking up where he left off and demonstrating that the inconsistencies that slowed his progress early in his time here will no longer define him as a quarterback.
The first challenge was mastering the offense. That box can now be checked. "He gets something from every rep," said Adam Gase. "He sees everything that's going on around him."
The next challenge is getting through training camp, growing with each practice, fine-tuning his skills, building a rapport with his teammates, especially his new teammates, that can carry into the season. That's part of a process that began on Thursday morning.
So what does Ryan Tannehill want today for his 30th birthday?
I posed the question. He smiled. "A great day of practice."
Say this about Tannehill, he certainly has his priorities in order.