It always happens when the Jets come to town. My mind races back through the years to so many memorable games, so many great performances. It's been a series between these two teams, playing for the 106th time Sunday at Hard Rock Stadium, which has almost taken on a life of its own. 
Careers change. Seasons are altered. Games are sometimes decided in the most remarkable of ways.
From a personal standpoint, my most vivid memory is a very sad one; the night Dwight Stephenson's Hall of Fame career ended in the most excruciating of ways.
It was midway through the fourth quarter on Dec. 7th, 1987 at then brand new Joe Robbie Stadium. Jets' defensive back Bobby Humphrey picked up a Troy Stradford fumble and returned it 46-yards for what proved to be a meaningless score in an 11-point Dolphins' victory.
But there was nothing meaningless about it. Right on the sideline, in front of the Dolphins' bench, Jets' defensive tackle Marty Lyons, assuming Humphrey needed some help on that fumble return, blindsided Stephenson, who never had time to brace for impact.
Stephenson's leg gave way, causing a bone to shatter and causing serious nerve damage. At just 30 years old, Stephenson would never play another down. How ironic that Lyons was his former teammate at Alabama and some believe that his career was never quite the same after ending Stephenson's.
"I never stopped regretting that moment," Lyons said years later.
I think about it every year about this time, just as I think about some of the most impressive home field victories over the Jets, and there were many.
What's your top five? Here are mine:
1982 AFC Championship Game
Have 35 seasons really passed since A.J. Duhe's three interceptions lifted the Dolphins to a 14-0 victory? Just about every time I see Duhe these days, I bring up that game, how it rained so hard that morning, how the defense so thoroughly dominated, holding the Jets to 139 yards of offense, and of course, how Duhe played the best game of his football life.
His 35-yard interception return sealed the deal, Duhe holding the ball up high as he crossed the goal line, undoubtedly the most lasting image of his NFL career. "A day," Duhe recalls today, "when everything just came together."
1985: Dolphins 21, Jets 17
This came down to one play, in the final minute of the game, the Jets holding on to a 17-14 lead, the Dolphins needing something some magical from the right arm of Dan Marino.
The 50-yard scoring pass to Mark Duper at first seemed as if it was overthrown. But could you really overthrow Mark Duper even in his first game back after missing seven with a broken leg? "I saw his eyes light up and knew I was in trouble," said Jets' defensive back Bobby Jackson. At first Duper juggled the ball, then pulled it down, using only his right hand and hardly breaking full stride. There was just 41 seconds left by the time Duper crossed the goal line. "I'm back," Duper said at the time. He undoubtedly was.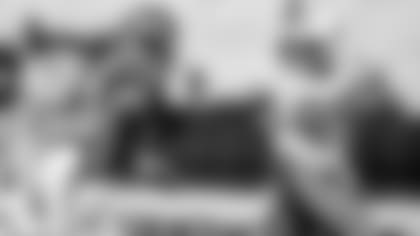 1986: Dolphins 45, Jets 3
Why choose a 42-point rout in a series with so many riveting finishes? Because this one was especially sweet. The Jets came in at 10-1, winners of nine-in-a-row and surely playoff bound. Not so fast.
After getting dismantled by the Dolphins that day, Marino throwing for four touchdowns and running back Lorenzo Hampton, running for two and catching one, the Jets would go on to lose their final five games, finishing 10-6 and failing to make the playoffs. The Dolphins weren't going anywhere that season, coming into that matchup with a 5-6 record, but to beat the Jets so soundly, and ultimately ruin their season in the process, had to go down as one the most satisfying victories in the series.
1992: Dolphins 19, Jets 17
Pete Carroll was the defensive coordinator of the Jets that season, a young aspiring coach who obviously still had some learning to do. How else can make sense of him mocking a choke sign at Dolphins kicker Pete Stoyanovich as he lined up for what would be a game-winning 37-yard field goal with just seven seconds left.
A few minutes earlier, Stoyanovich had missed an extra point that kept the Jets on top 17-16. Now he had a chance to redeem himself with the game on the line. But there was Carroll, first running down the sideline then looking straight at Stoyanovich with hands tightly gripped across his throat, all there for the TV cameras to capture. "Wasn't something I was proud of," Carroll would say later. Didn't do much good either as Stoyanovich nailed the kick.
1972: Dolphins 28, Jets 24
We have to go way back for this one, all the way to the perfect season when the Dolphins were 9-0 and facing a pretty good Jets' team that certainly proved it early on, leading 17-7 in the second quarter that mid-November day in the Orange Bowl. The Dolphins closed the gap, trailing 24-21 entering the fourth quarter, that perfect record clearly in jeopardy.
But a 14-yard touchdown run by Mercury Morris with 11:11 remaining proved to be the winning score, the Dolphins surviving one of their stiffest tests on the way to 17-0.
That was 46 years ago. Who could have envisioned then what this series would become? But now we know. The next chapter is Sunday. Embrace it. You never know what might happen when these two teams meet.