The first thing you notice about Josh Sitton, well, you notice just about everything. The long, unruly hair. The thick, bushy beard. The strong man's physique. Even his walk is intimidating, seeming to scream: "Get out of my way or I might just run over you!"
Does the person match the appearance? "Nah," Sitton says, "I'm really a Teddy Bear at heart."
Not on the football field he isn't. Josh Sitton may just be the most accomplished offensive guard signed by this team in years. He has one Super Bowl ring and four Pro Bowl appearances, gave up only one sack in 13 career playoff starts and has the respect league-wide that comes from 139 starts first with Green Bay and then with Chicago.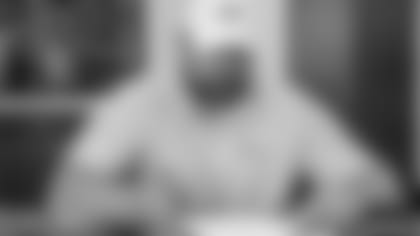 An important free agent signing? You've got to rank Josh Sitton near the head of the class. There has been a void of consistency here at offensive guard for far too long. Draft choices haven't panned out and the veterans brought in have been OK, but really not much more than that.
Sitton comes with the credentials to make a difference. Early signs indicate he will do just that. He has embraced his leadership role, solidified his status as the starting left guard and has given this line in general a more physical, tough-minded look.
"It's not how I look," he reminds me, "it's how I block."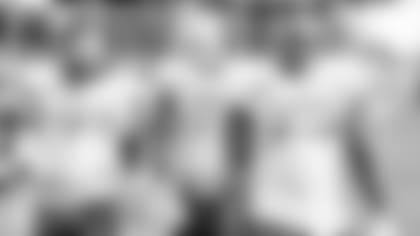 There is so much these young linemen can learn from this 32-year-old entering his 11th season. What I like most, though, is the winning pedigree that comes with a clear knowledge of what it takes to get there.
Sitton often thinks back to that feeling he had when he won the Super Bowl with the Packers in the 2010 season, how it made everything seem worthwhile, how he lived out a dream that seemed so far-fetched as a kid growing up in Pensacola.
"Would love to get another one down here with the Dolphins," he said.
Don't ask him, though, where he stores his Super Bowl ring because he won't tell you. "Too valuable to share something like that," he says. "Let's just say it's somewhere in a case locked up."
Sitton says he'll be happy to take it out of that case if his teammates want to see it. But he quickly adds he's not much at living in the past, not when the present holds so much promise and certainly not when his wife Kristen and his one-year-old daughter Larue remind him each day of what every second means.
You want to see that Teddy Bear come out? Watch Sitton after practice get down on his knees and play with his young daughter. How quickly that menacing look is replaced by warmth and passion. The big man becomes a little kid.
"You should see me with her at home," he says. "I'm a different person, chasing her around the living room. But the best time of the day is waking her up in the morning, how she bounces around her crib and just smiles me. That's one of the toughest parts of training camp, not being able to wake up my daughter."
An interesting person, this Josh Sitton. He'll tell you almost sheepishly that he prefers to play in freezing weather over sweltering heat, that he loves to hunt in the woods, that he has a passion for cheese – "anything with cheese" – and that when you get right down to it, "I'm a goofball more than I am anything else."
Except when it comes to sports. I asked him what he's good at it other than football and the conversation went this way:
What's your next best sport?
What do you mean, everything?
"I'm good at everything. There isn't a sport I'm not good at. Name a sport, I can play it and play it well."
"Of course golf. I'm telling you, I'm good at everything."
Confident man, would you say?
That confidence doesn't come out when he talks about football. When he's on the field, though, that's an entirely different matter. Everything he does exudes confidence. You don't want to get in his way. You certainly don't want to get him any angrier than he needs to be. He is an excellent technician of his craft, but more than that it is the every down consistency that sets him apart.
You want attention grabbing? Sitton did not give up a sack in three different seasons (2010, 2014 and 2016). Got a hunch Ryan Tannehill is well aware of that.
"See it's not about being great in this league," Sitton said after a recent practice. "It's not about bringing it three out of every four downs. It's about lining up and doing it on every play, never taking a play off and always focusing on your man and your assignment. If you can pull that off, you'll be just fine."
After 10 productive seasons, guess you can say Josh Sitton is just fine.