The Miami Dolphins signed cornerback Byron Jones on Wednesday. The highly sought defensive back gives Head Coach Brian Flores another very talented player in the secondary.
Flores harps on versatility and that's exactly what Byron Jones brings to the table. Now a lockdown corner, he actually entered the NFL as a safety from UConn and played there for Dallas in 2016 and 2017. Making the switch back to corner in 2018, Jones' production is near the top of the leaderboard in several categories. 
From PlayerProfile.com, Jones ranked second in yards per target allowed at 5.1 in 2019. He allowed the ninth-fewest receptions per game (2.2) and the fourth-fewest yards (351). Jones ranked fourth in both coverage rating and catch rate allowed.
Jones can play anywhere in the secondary but has excelled as a perimeter corner the last two seasons. 
Since flipping back to full-time corner in 2018, Jones has been targeted 125 times, allowing 65 receptions (52 percent) for 806 yards (6.4 yards per attempt). Rarely targeted, Jones still broke up 19 passes over the two years.
Among players with better than 600 snaps, Jones was the 11th-highest graded cornerback in 2019 on Pro Football Focus. His tackling grade ranked first and his coverage grade finished 12th-best.
In 2018, Jones was PFF's fifth-highest graded corner (with more than 600 snaps).
At 6-1, 200 pounds, Jones blew up the 2015 Scouting Combine. He paced the defensive backs in the vertical (44.5 inches) and broad jumps (147 inches), 3-cone (6.78 seconds), 20-yard shuttle (3.94 seconds), and 60-yard shuttle (10.98 seconds). Jones' rare length and athletic combination makes it a difficult task for receivers to earn clean releases when he lines up in press-man.
The 147-inch broad jump by Jones at the combine set a world record that still stands today.
Jones can press and disrupt at the line, or bail in a variety of zone coverages, leaning on his football I.Q. and instincts to anticipate route concepts.
According to ESPN's Next Gen Stats, opposing quarterbacks completed just 50% of their passes when Jones was the nearest defender in coverage last season, which was the seventh-best mark in the league for corners with at least 250 coverage snaps. Opposing quarterbacks mostly left Jones alone, as he was targeted a mere 13.0% percent of pass attempts last season.
Pairing talent and preparation, Jones has made a habit of locking down the game's best receivers.
Table inside Article

| Wide Receiver | Year | Production |
| --- | --- | --- |
| Michael Thomas | 2019 | 2 receptions, 21 yards |
| Alshon Jeffery | 2019 | 0 receptions |
| Stefon Diggs | 2019 | 1 reception, 11 yards |
| John Brown | 2019 | 1 reception, 6 yards |
| Brandin Cooks/Robert Woods | 2019 | 2 receptions, 19 yards |
| Odell Beckham | 2018 | 0 receptions (5 targets, 1 reception) |
| Julio Jones | 2018 | 1 reception, 19 yards |
| Michael Thomas | 2018 | 0 receptions |
| T.Y. Hilton | 2019 | 1 reception, 23 yards |
"Extremely smart and instinctive on the field. Shows above-average anticipation of routes. Is able to sniff out rub routes and works to avoid them. Flashes recovery speed downfield and gets head around to find ball and make a play on it. Uses instincts and adequate closing burst to disrupt the catch. Generally reliable tackler. Team captain and leader on the field and in the locker room. Scouts say he's willing to play hurt and inspires his teammates."
From that same report, Zierlein quoted an anonymous NFC scout:
"High-character player with the vision and instincts you want from an NFL cornerback. Really nice young man who you cheer for."
That durability shows up in the annual snap counts. Jones has played 4,903 snaps in his five-year career – an average of 980.6 snaps per year.
Joe Schad of the Palm Beach Post tracked down Jones' college coordinator/position coach Don Brown.
"Great human being," Brown said. "Highly competitive. Great athlete. One of the best young people I have ever been around."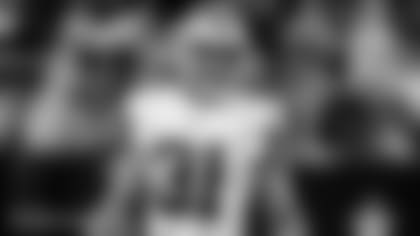 Jones has been praised for his locker room leadership, toughness, and intelligence on the football field. Above all, Jones relies on his preparation during the week to excel on Sundays.
"[Taking the ball away] is a lot of things," Jones said. "It's a mental thing as well. You've got to know what you're looking for. For me, working with [Cowboys linebacker] Sean Lee helped me out a lot. We've already talked about having film sessions together and everything that goes into that. I'm not endlessly looking at film. I'm looking for specific things to help me."
"It was an eye opening experience," Jones said. "I went to hearing, briefings, took notes on behalf of the congresswoman. I gave tours of the U.S. Capitol. It was fascinating."
Miami's new cornerback is a renaissance man – both on and off the football field.