"This is the best decision you ever made."
That's what first round pick Christian Wilkins told General Manager Chris Grier when the call came in from the Dolphins on Thursday night. I mean how many players say that? How many players carry with them that sort of unbridled confidence so early in their careers? 
We're quickly finding out that Wilkins simply isn't like most players.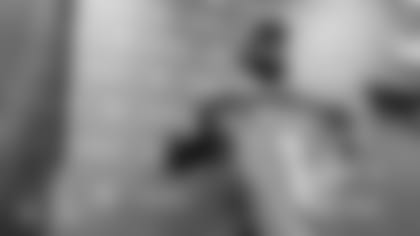 As good as he was from afar on Thursday night in Nashville, he was just as good on Friday afternoon at the team's training facility. His presence illuminates a room. His smile is infectious. His words are filled with enthusiasm and sincerity. Cocky? No, this is what self-assuredness looks like.
So Wilkins walked up to the podium early Friday afternoon, dressed smartly in a gray suit, a light pink shirt, a perfectly matching tie and even a matching handkerchief coming out of his front pocket. Over the next 15 minutes or so, he spoke about his upbringing, his football career, his substitute teaching, his aspirations and, of course, the tragic shooting death of his grandfather years ago and how, in his words, "I'm going to be his legacy. He's going to live on through me."
That was a whole lot to swallow, but Wilkins is a whole lot of person. All 315 pounds of him.
"I've been dreaming about this my whole life," he says.
I asked Wilkins what he is going to bring to this team and if there is a message he'd like to pass on to the fan base. A smile creased his lips. You could almost see his calculating mind working overtime.
"The fans have been great already," he said. "Plenty of feedback from them on social media. I mean I already feel like part of the family."
As for the team, as for the football player the Dolphins are going to get, Wilkins didn't mince words.
"Don't mean it in an arrogant way, but I'm the total package."
And, you know something, he wasn't being arrogant. He simply spoke what he truly believes.
Wilkins drew some raised eyebrows Thursday night when he mentioned Dwyane Wade and how his retirement created a void on the star front in South Florida, a void that maybe, just maybe, he could fill.
He was asked about that comparison at Friday's press conference. "I was joking," he said. "But why not?"
Uh, maybe he's getting a little ahead of himself here. Maybe more than a little. But you've got to admire how high he is willing to aim and the unyielding manner he approaches the way he lives his life, and he goals that he sets.
You listen to him talk, you hear the passion and certainty in his words, and you can't help but feel good about his chances of becoming the player the Dolphins need him to be. At just 23 years old, he is remarkably polished in so many different ways. That's the major takeaway from Friday's press conference. This isn't your normal rookie. In truth, it's probably been that way every step of his football journey.
"This is my home now," he says. "I'm so blessed to be in this position."
Blessed and clearly embracing the new set of challenges now right in front of him.