Versatility has been a priority in modern day football for some time, but the ability to adapt and be flexible is perhaps more important now than ever before. The defense that Head Coach Brian Flores and Defensive Coordinator Josh Boyer has built is one based on weekly adjustments to account for the opponent. So it should be no surprise that the head coach of the Miami Dolphins has similar aspirations for his offense.
The Dolphins' six offensive assistants – Chan Gailey (offensive coordinator), Robby Brown (quarterbacks), Eric Studesville (running backs), Josh Grizzard (wide receivers), Steve Marshall (offensive line), and George Godsey (tight ends) – met with the media on Saturday as the training camp acclimation period continues to ramp up.
Here are the highlights from those six press conferences.
Chan Gailey: "I want to be a balanced offense. I want us to be able to run the football and throw the football effectively. Then the next thing is, to me, you adapt to the players that you have. You have to adjust your schemes and see who you have and that sometimes is even on a week-by-week basis and this year, that may be more important than ever, is to have a system in place that you can adjust to make the players that you have be successful. That's what I've always tried to be about, is putting them in position to be successful."
Josh Grizzard: "With the scheme, it's going to be very multiple. It's going to be a balanced attack. It's going to – from week to week, what do we need to do put these guys in position to make plays and take advantage of the opponent, as well as what we do? It can change. We're excited about those guys but again, it will be a week-to-week (approach). What do we need to do to win this one game? And then we'll focus on the next opponent after that."
George Godsey: "I think there's going to be a lot of versatility with these guys, not only as a – I call it a 'point-of-attack tight end' when you're actually on the line – but as a move guy. You used to end up being the spot but off the line where now you have multiple things that you can do. (We are) looking for versatility in that and we have a lot of guys in this group."
Robby Brown: "I think if you have a ton of different experiences, I think that helps you in anything that you do, no matter what line of work you're in. As players, yes that helps if a guy can do two things. It always does. Some guys can and some guys can't. But yes, it does help if you can do more than one thing to keep what you're trying to do away from everybody."
Steve Marshall: "We're going to be multiple. We've got good football players up there so that's where I see it. We will be multiple in the things that we do. It's just right now, we're kind of in the mental phase of it and then we'll go from there."
Creating opportunities for the skill players:
Chan Gailey: "The great receivers I've been fortunate to be around, they're artists. They run a route and they never paint the same picture twice because of the way the defender is, because of the route they're running, because of whatever it might – the coverage – they paint a different picture every time and if you take an artist who knows how to get open and who knows what he's doing versus a defender and you try to fit him into a box, that's where you make the guy less of a player than he really is. I want guys to be able to go out and be creative. I tell them, 'you've got to be where you're supposed to be when you're supposed to be there, but how you get there – that's up to you.' So we give them the freedom to go get open and then we think we have talented enough quarterbacks that can see that and get them the football."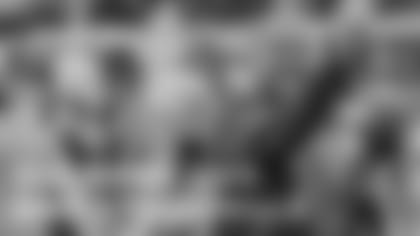 Eric Studesville: "I coach these guys to be complete backs. They all have to be able to have the entire skillset, whether that's running, blocking, catching the ball, evading people, running routes, whatever those things are. They are all coached that way. Now they all do it differently and at a different level. However, the expectation is that you can do that because you never know when you're going to need one of these guys to step in. Last year is a perfect example with Myles Gaskin and Patrick Laird being our primary backs at the end of the year. They are all coached that way. They determine what their role is in the offense and what's going to happen."
New coaches developing chemistry with the staff and their players:
Robby Brown: "I think every guy is different, every position is different, and some people can make the jump better than others. Like me, I came in as a quality control in New York and then went back to West Virginia last year. It's different for every single position. If I'd come in from college and jumped straight to the quarterbacks in terms of what offense I'd been in, that would've been different. So it was good for me to go through the quality control process. I don't think it's the same at every position."
George Godsey: "The players go through their chemistry. We as coaches go through our chemistry, too, so putting everybody on the same page as far as what day-to-day operations are but also the communication; for example at the tight end position, there's communication with the line coach. Obviously with the coordinator, how he sees things through his lens. So we've had our share of meetings and it's been good. We can't high five each other, but we've gotten enough information. We've taken a lot of notes and we've had a lot of good feedback back and forth."
Josh Grizzard: "Being around some of these guys for three or four years, there's a level of knowledge of what they're like and what they're like on day-to-day basis. Then you're able to just compare things on 'this is a similar route' or whatever it might be. It's been nice. Like I said, I really enjoy being around these guys. They all work. From day to day, it's a group that brings energy. It's been fun to be around and I look forward to continuing that as we get more time with these guys."
Individual player evaluations:
Gailey on Ryan Fitzpatrick: "He is a team player and he is trying to be the best he can be and be a great player, but at the same time, he shares his knowledge and he shares his experience. That's what makes him a unique guy. We communicate well. He understands what we're trying to get done. We try to put him in position to be successful and allow him to use what he does to help us win football games, and I respect him as a competitor, as a person and certainly as a player."
Robby Brown on Tua Tagovailoa: "He's just got to come in and learn. What we're trying to do first, the first thing you have to do is learn what you're doing as an offense and then it expands to 'okay, what's the defense trying to do to us,' and that kind of stuff. But he's just like every other guy – a rookie trying to come in and learn that, and learn it as fast as possible. Of course, it's a little bit accelerated during this training camp. It's a different process than it would have been had you had OTAs and all of that stuff."
Eric Studesville on Jordan Howard: "He's a smart guy. He's been able to pick things up so far, and what we're talking about – teaching concepts. You love his size. He's got good feet for a big back. He's got good vision. I think he'll have a chance to be a physical presence for us, as well as effective in the pass game with what we're asking for."
Eric Studesville on Matt Breida: "You see his burst and quickness early on as soon as he touches the field, so we're excited about him. We don't know what these guys will be able to do or contribute yet because we don't have all of our installs in as far as what we've done with them on the field as a whole group, as a veteran group.
Josh Grizzard on DeVante Parker: "I'm happy for DeVante because he worked so hard. I think what happened in the years prior to that were irrelevant to an extent. We were just happy to see the success that he had. I know he was healthy. I'm just excited for him. He's in a great spot right now. I'm just looking forward to getting out there and seeing these things once we get away from the walkthrough phase and start doing more Phase II and more competitive-type things."
George Godsey on Adam Shaheen: "He's got great range from a length standpoint and size. He's had his issues trying to stay on the field. I think that's part of the NFL, so he's a young prospect that is ascending. He's very motivated in these meetings."
George Godsey on Mike Gesicki: "He put an emphasis on his practice habits. We say practice execution is more game reality, so if you can get out there and practice at a high level and go against high-level competition so going against that first-team defense, maybe taking a show team rep – I would say 'dropping the shield,' so to say as a pro, like get out there and be a show team guy and go against good competition. And he put time into that, got some extra time with (Ryan Fitzpatrick) as far as seeing, running routes so that he could see it the same way as a quarterback. He became more of a communicator with the quarterbacks and I think that was part of his production increase"
Steve Marshall on Robert Hunt: "Rob Hunt is a great young kid. He's learning the NFL game, coming from (Louisiana) Lafayette. He's been a productive player in college. Every day it's a new adventure for him mentally and what we're asking him to do. I love the heck out of him and he's competing his tail off for what we're asking him to do right now. Again, it's kind of a question of we'll see where it all goes. I really like Rob. Rob has a lot of character and is a smart guy."
Steve Marshall on Jesse Davis: "Jesse has come to Miami and he's put himself together a heck of a career. He's one of the greybeards now of the offensive line. Yes, we will lean on Jesse from a leadership standpoint off the field and from a leadership standpoint in these meetings. We'll see where he goes. Like I've said, I've known Jesse for a while and have a lot of respect for him and what he's accomplished as an NFL player."