The Miami Dolphins signed defensive end Emmanuel Ogbah on Wednesday. The former Browns and Chiefs edge brings his heavy-handed, power-rushing game to Miami.
The former second-round pick had a great Combine in 2016. Running a 4.63 40-yard dash and jumping 35.5 inches vertically and 121 inches on the broad, Ogbah paced his position group in three testing categories. At 6-4, 273 pounds, with 35.5-inch arms, Ogbah has the length, strength and athletic profile to excel in Brian Flores' defense.
"Thick, powerful frame with broad shoulders. Came into school undersized but has grown into his frame with weight work. Able to absorb contact and play through it. Tough for linemen to redirect and is too much for tight ends one-on­one against the run. Some of the most power hand slaps you will find in college football. Able to brush away a weak punch with ease. At times, flashes unusual ability to trim the edge with power over speed. Uses power and a late rip move to win around the corner. Plus speed­to­power rusher who created instant bull rush movement. Has power to win at the point of attack and capture the neutral zone while posting consistent production. Has posted a full sack or more in 16 of his last 21 games and finished 2015 with 17.5 tackles for losses. Has played both end positions, bumped inside and plays with a hand up and down."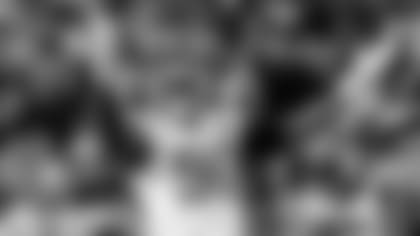 The heavy-handed production translated to Ogbah's NFL tape. He's an effective contain rusher that can overwhelm tackles with power, and dent the edge considerably to free up linebackers to pursue the run game.
Ogbah had a career-high 5.5 sacks last season for the Chiefs despite playing in just 10 games and a career-low 251 pass rush reps. Through four years, Ogbah tallied 18 sacks and 2,527 reps – an average of 631.8 snaps per year.
The pressure data from Ogbah's career has been consistent. With 125 pressures spread across his four seasons, Ogbah's career pass rush productivity rate is 8.3 percent. Last year in Kansas City, Ogbah produced a 10.7 percent pressure rate, topping his career-best 9.4 pressure rate his rookie year in 2016 with the Browns.
Ogbah's run defending numbers have also been consistent. With 83 run stops (tackles within two yards of the line of scrimmage) on 965 running down reps, his career run stop rate is 8.6 percent. Among players with 10 or more games played, Ogbah's 10.6 percent run stop rate in 2019 ranked fourth in the NFL.
Ogbah's length serves as a disruption of passing lanes when he doesn't get to the quarterback – he has 19 career batted passes.
The beauty of the NFL is the variety of routes players take to achieve their dreams. Ogbah arrived in America – by way of Lagos, Nigeria – when he was nine years old.
"I know what hard work looks like," Ogbah said. "I know what it means to sacrifice."
Ogbah's father was a successful bank manager in Nigeria, but his degree served no purpose in the United States, so he had to start over. Emmanuel learned the value of hard work observing his father start from scratch and remake himself working multiple jobs while he went back to school.
At age 40, Ogbah's father earned another degree and started a job as a technician for an oil company. His father's sacrifice laid the foundation for Emmanuel's approach to the game of football.
"I work," Ogbah said. "And I am my own biggest critic. I do not just study and watch film of the other team. After games, I go back and watch film of myself. Nobody's perfect, including me, so I pick apart my own performance and I look more for the negatives than the positives because I always want to know what I need to improve on. It is about getting better every day, every game."
Ogbah refers to game in college against Kansas State that was the best of his entire career. A game in which Ogbah only sacked the quarterback one time.
"Don't get me wrong — I love sacking the quarterback," Ogbah said. "But I also take pride in the ways I can impact a game that may not show up in the box score."
The 5.5 sacks for Ogbah last season were split across six snaps (one play a split sack). The following serves as a play-by-play breakdown of those sacks.
Sack No. 1, Week 1 at Jacksonville: Ogbah lines up in a Wide 5 technique off the play side in a three-point stance. With a one-on-one matchup with the right tackle, Ogbah uses a devastating club and rip to completely neutralize the initial punch of the tackle. Ogbah turns the corner and gets to the Jaguars quarterback.
Sack No. 2, Week 3 vs. Baltimore: Ogbah lines up as the 7-techinque to the strong side of the formation, and throws a bull rush over the right tackle. Ogbah's power resets his man four yards behind the line of scrimmage, forcing the Ravens quarterback to attempt to step up and escape. Ogbah sheds the block and splits the sack with a teammate.
Sack No. 3, Week 3 vs. Baltimore: Ogbah lines up as the weakside 5-technique. The Ravens run play action from the pistol creating a deep pocket. The Chiefs send a nickel blitz which forces the split zone tight end coming across the formation to leave Ogbah unblocked. Ogbah closes down on the Ravens quarterback and gets him to the ground in the open field.
Sack No. 4, Week 7 at Denver: Ogbah aligns in a Wide 5-technique with a one-on-one matchup with the right tackle. The Chiefs show double B-gap pressure but bail out only sending four. Ogbah completely resets the right tackle, knocking the offensive lineman off balance. Ogbah's power is too much for the tackle to re-anchor, and he finishes the sack while bringing the tackle along for the ride.
Sack No. 5, Week 8 vs. Green Bay: Ogbah lines up in a weakside Wide 5 technique with a one-on-one matchup with the Packers right tackle. Ogbah's initial bull rush shocks his man resetting the point. As the tackle attempts to anchor and reposition, Ogbah dips and rips on the upfield shoulder and leaves the tackle in his dust. Ogbah finishes with a solo sack on the Packers quarterback.
Sack No. 6, Week 10 at Tennessee: Ogbah lines up in a weakside Wide 5-technique. Ogbah's initial approach is directly at the right tackle, but he alters with a lateral step inside as the looper. The backside guard and center attempt to pick Ogbah up on a free run but he splits the blocks and gets to the Titans quarterback for a sack.