The Miami Dolphins agreed to terms Wednesday with offensive lineman Ereck Flowers. The Miami Gardens native will now play his home games at Hard Rock Stadium, just 1.6 miles from his high school stomping grounds.
Elite size — 6-6, 335 pounds and 34.5-inch arms — and athletic ability made Flowers the ninth overall pick in the 2015 NFL Draft. Carrying a massive frame with relative ease had scouts fawning over the potential of Flowers at the next level. Like he did in college, Flowers played both tackle positions with the Giants before a trade to Jacksonville. Flowers' first rep as a guard came last season as a member of Washington.
"Big, athletic frame carrying more than 320 with ease. Ascending mauler in the run game. Bender who is low man off the snap and pops his hips into block to leverage defender at the point. Combines hips, arm extension and upper-body power to consistently turn his man when base blocking. Once he gets upper hand in run game, he usually sustains and finishes. Secures combo block with a vengeance. Has feet to become solid zone blocker. Mean and highly competitive. Wants to dominate and gets surly when beaten on a snap. Special foot quickness in pass protection. Able to mirror and counter two-way rushers or B-gap blitzers. Uses quick feet to loosen hips and turn, scramble, and recover when beaten. He played both tackle positions in both college and the pros."
"Flowers' strength as a run blocker and ability to uproot his man and get them turned is undeniable. He may be drafted as a tackle, but his best position could end up being a guard where I would put a draft grade on him of 6.12" (this grade reflects an immediate impact starter on Zierlein's grading system).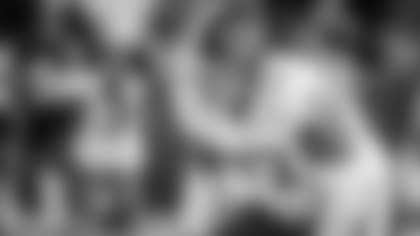 Flowers' brute strength was evident at the 2015 Scouting Combine when he paced all offensive linemen on the bench press with 37 reps. Flowers pairs that strength with a desire to punish opposing defenses, and a workman-like attitude.
Playing a physical brand of football requires a requisite level of toughness; a trait Flowers embodies. The former Miami Hurricane has missed just four games in five years. Three of those missed games occurred in 2018, giving Flowers four seasons of 15 or more games played.
Flowers logged 4,611 snaps through his first five seasons – an average of 922.2 plays per year.
Turning 26 years of age in April, Flowers found his groove last season in the nation's capital.
Per Pro Football Focus, the Washington offense ran the ball inside the tackles 78 times (split evenly at 39 attempts to either side). When running right (away from Flowers), Washington averaged 3.87 yards per carry. Running behind Flowers netted a difference of +.68 yards per carry (average of 4.55 YPC). Nine of the 78 carries behind left guard went for 10-plus yards. Adrian Peterson averaged 0.7 yards per carry better running off left guard than he did off right guard.
Known for his mauling ability in the run game, Flowers' 2019 pass protection data was even better.
Per Pro Football Focus, Flowers played 588 snaps in pass protection. With just four plays resulting in a hit on the quarterback form the left guard position, Flowers is in rarified air. Just one other guard, who had more than 500 pass blocking snaps, allowed fewer QB hits than Flowers (Dallas' four-time All-Pro Zack Martin).
With a 97.6 pass blocking efficiency (PFF), and a 92 percent pass blocking win rate (ESPN's Next Gen Stats), Flowers was one of 13 guards to play more than 500 pass blocking snaps and allow two or fewer sacks in 2019.
The 24 pressures allowed by Flowers ranked 29th among guards, tying with Pittsburgh's five-time Pro-Bowl selection David DeCastro. His two sacks allowed equate to a .003 percent sack rate, and the four total QB hits makes up an impressive .006 hit rate on those 588 pass blocking reps.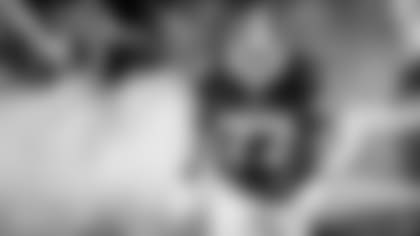 Flowers was one of 20 left guards to play more than 900 snaps. He ranked 10th among his qualifying position-mates in pressures allowed. Flowers never allowed more than three pressures in a game last season and committed only one foul from Week 6 to the end of the year.
Flowers entered the league a spry 21-years-old and blossomed under Bill Callahan last year in Washington.
"I love Flowers," Callahan said. "I loved him coming out of the draft. I think the world of him. He's physical. He's been really good in pass protection. He's a strong square force in that respect. I just love the kid. I just like the way he works, how he goes about his business. Sometimes, it's just a breath of fresh air. I've had a lot I've had a lot of guys in my career, a couple of different places, that sometimes a different exposure to new techniques, a different system, it kind of revives them ... He'll hit the free agency market and I think he'll do pretty well."
According to The Draft Network's big board, none of the top 50 players in this year's draft are guards – and only three guards rank inside the top 100. So for Miami to land a sure-fire starter at the position while not re-setting the market, has to be considered a big organizational win.
Flowers should help improve Miami's offensive line both in the pass and run games. His physical play appears fit in with the type of offensive line the Dolphins have talked about building.