"Anything that involves being on the field coaching, helping guys improve, that's exciting to me."
— Flores reiterated his excitement for the opportunity to work with his players on the field this week after two weeks after rehabilitation and strength and conditioning.
"Pick any of the guys, they're all my right-hand men."
— When asked whether there was anybody on the staff who he would describe as his "right-hand man," someone he often consults or trusts, Flores took the total team approach.
"Call it what you want. ... To me, it's just trying to play and coach good football."
— The term "Patriots Way" has been thrown around, but for Flores it simply comes down to playing sound football and paying attention to detail regardless of what team is involved.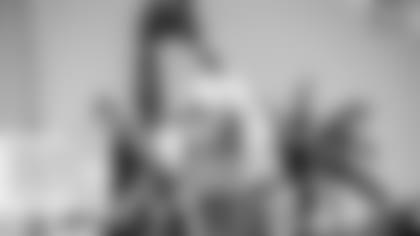 "Mike is a good young player, talented. We see what everyone else sees, he's got size, he's got speed."
— The Dolphins selected tight end **Mike Gesicki** in the second round of the 2018 NFL draft because of his obvious physical attributes, and Flores is looking forward to helping him continue to improve to the point where he can take full advantage of those skills.
"I was taught at an early age: 'Early is on time; on time is late; late is forgotten.' I have a lot of respect for time. I think it's precious."
— For the second time this week, Flores showed up early for his media session and he explained that his philosophy dates back to his high school days and his coach, Dino Mangiero.