Here are more comments from the week of preparation for the New England game that stood out, along with some perspective:
"I think he's getting better. I think the more he's seen, the better he's getting. The fact that he's getting better every week and trying to get better every week, that's what we want."
— Head Coach Adam Gase described the progress of guard **Isaac Asiata**, who was promoted from the practice squad Nov. 9. Gase and the Dolphins like the size and physicality demonstrated by Asiata, a fifth-round pick in 2017, and the next step for Asiata is refining his technique and keep getting a better understanding of what opposing defenses are trying to do.
"This is the time when you can separate yourself and create a postseason or otherwise. This is where those games kind of stand out to say it's going to keep propelling us toward our goal or you drop the ball and things go the other way."
— Defensive end **Cameron Wake** often has spoken about his motivation never changing regardless of circumstances, whether it be the opponent, what happened the previous week, whatever. That said, Wake did acknowledge that there is something different between games in December and those earlier in the season because this is when playoff berth are won and lost.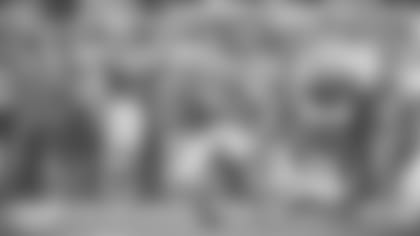 "The biggest thing was his ability to step in and learn. He's a sharp guy. He's a pro. He's been around."
— Offensive coordinator Dowell Loggains has been impressed with the ability of new wide receiver **Brice Butler** to make a quick impact on the offense. Butler tied **Kenny Stills** and **DeVante Parker** for the team lead with four catches in the victory against the Buffalo Bills last Sunday in his second game with the Dolphins after being signed in November. Butler figures to play an important role on offense the rest of the season.
"He's never too high, never too low. I think that's a really good mindset for a specialist."
— Associate Head Coach/Special Teams Coordinator Darren Rizzi was impressed with **Jason Sanders'** level-headedness after meeting him during the pre-draft process last spring. It was one of the things that made Sanders attractive to Rizzi and the Dolphins, who ended up selecting him in the seventh round of the 2018 NFL Draft. Sanders has rewarded the Dolphins' faith in him with a terrific rookie season during which he's made 16 of 17 field goal attempts, including the game-winning kick in the overtime victory against the Chicago Bears.