Here were some of the comments that stood out after the 21-17 victory against the Buffalo Bills, along with some perspective: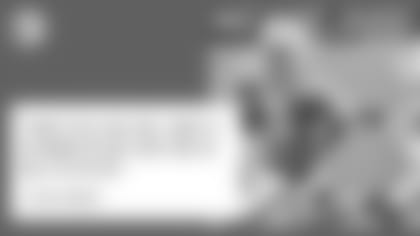 "I want to be a ball hawk. I want to be around the ball every time the ball is in the air."
— Cornerback **Xavien Howard** recorded his second consecutive two-interception game and his third of the season, which is a first in Dolphins history. Howard said a big emphasis was placed this offseason on creating turnovers on defense, and he's clearly taken that to heart.
"It's a big win. Each game from here on out is a huge game."
— Linebacker **Kiko Alonso** pointed out the significance of the victory, which kept the Dolphins within one game of the Baltimore Ravens for sixth place in the AFC standings. The Dolphins are tied with Indianapolis Colts and the Denver Broncos with a 6-6 record, with the Tennessee Titans having a chance to join them with a victory against the New York Jets in a late-afternoon game.
"When you get in the red zone, you've got to put points on the board. You want them to be touchdowns. We were able to do that today and it helped us get the W at the end of the day."
— Running back **Kenyan Drake** said the offense was efficient against the Bills because they were 3-for-3 in the red zone in terms of producing touchdowns. The offense did not produce a lot of yards, but the Dolphins ended up with a touchdown every time they got inside the Buffalo 45-yard line. It ultimately was enough to help produce a victory.
"My heart dropped. I'm not even going to lie. Then when the ball dropped, I was like, 'Yes!' It ain't like we drew it up, but I'll take it."
— Defensive tackle **Akeem Spence** described the roller coaster of emotions he and his teammates went through on the final play of the game as they pursued rookie quarterback Josh Allen, watched him move around in the pocket before throwing a deep pass toward a wide-open Charles Clay in the end zone, only to have the ball fall incomplete when Clay couldn't corral the under-thrown pass. It indeed was a heart-stopping finish in what was a crucial game for the Dolphins.