Here were some of the postgame comments that stood out after the Dolphins' 34-27 victory against the Atlanta Falcons in the preseason opener, along with some perspective:
"It was just like a relief. I didn't know when it was going to happen. I just went out there, took it play by play, but I was so excited. I was thrilled."
— Defensive end Dewayne Hendrix recorded two of the Dolphins' three sacks in his first NFL game, including the fourth-down sack deep in Atlanta territory that preceded the game-winning touchdown. The rookie free agent from the University of Pittsburgh has shown pass-rushing ability since joining the team in the spring and just carried that over into game action against Atlanta.
"We've come a long way, but we have a ton more to do, especially me and Shaq being rookies. There's a lot we can clean up."
— Rookie third-round pick Michael Deiter said he was nervous before his first NFL preseason game, but the nerves went away as he got more into the game. Deiter said he was satisfied overall with his performance, understanding that there's still a lot of room for improvement. Deiter and fellow rookie Shaq Calhoun ended up playing the entire first half.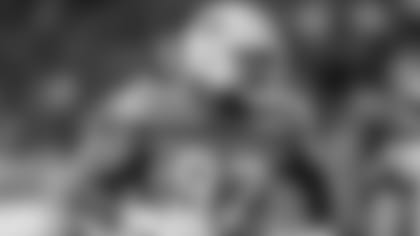 "I just felt like home. Running out of that tunnel, playing on that field again, everything just felt home. It just felt second nature to me."
— Running back Mark Walton is in his second NFL season, but he played at Hard Rock Stadium for the first time as a pro after spending his career at the University of Miami. Walton had one of the Dolphins' three rushing touchdowns, a 1-yard score that gave them a 20-19 lead in the third quarter.
"I've just going to take everything in stride. The good plays, the bad plays, it's all part of the learning experience."
— Rookie first-round pick Christian Wilkins joked that even the bad plays he had against Atlanta were "fun," explaining that he can take something from all the learning experiences he gathers. Wilkins started at defensive tackle against Atlanta and was credited with two tackles and an assist.
"I didn't have any expectations really coming into this game, but when my number was called I just wanted to answer."
— Rookie wide receiver Preston Williams had one of the top performances of the game for the Dolphins as he caught four passes for 97 yards, including a long of 36 yards in the third quarter. Williams' performance came on the heels of another strong outing in the scrimmage last Saturday at the Baptist Health Training Facility at Nova Southeastern University. While it's still early in the process, the undrafted free agent from Colorado State clearly is putting himself in position to contend for a spot on the 53-man roster.