Here were more comments from the week of preparation for the game against the Minnesota Vikings, along with some perspective: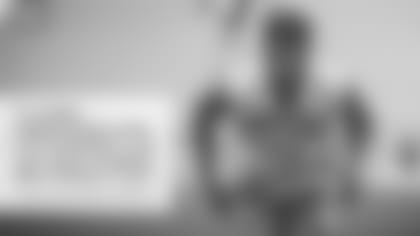 "It's been unbelievable how he's handled it. He just goes to work and figures it out."
— Head Coach Adam Gase talked about rookie **Minkah Fitzpatrick's** ability to move around in the secondary and perform at a high level at every spot. The initial plan didn't call for Fitzpatrick to play all over, and Gase said the biggest surprise has been how they've been forced to make full use of Fitzpatrick's versatility because of injuries. After lining up as the nickel corner and seeing action at safety early in the season, Fitzpatrick has been used primarily as an outside cornerback in recent weeks.
"He's a really good kid, hard worker, smart and we expect a lot from him this week and going forward."
— Offensive coordinator Dowell Loggains had some praise for rookie fourth-round pick **Durham Smythe**, the tight end from Notre Dame. It's clear based on his usage that Smythe has been gaining the confidence of his coaches—he played a season-high 41.7 percent of the offensive snaps in the victory against New England after playing 30.9 percent of the snaps the previous week against Buffalo. Loggains said Smythe has made improvement as a blocker, even though he came into the NFL with solid credentials in that department, and is ready to handle whatever comes his way in the passing game.
"I think he's actually had probably an underrated season, to be honest with you. He's done a good job for us."
— Defensive coordinator Matt Burke likes what he's seen from veteran safety **T.J. McDonald**. Beyond the obvious physical presence he brings to the secondary—check out the clip of McDonald bowling over a New England receiver to get to the ball carrier last week—Burke has liked what McDonald has done in coverage in terms of communicating with the other members of the secondary.
"I think our guys have grown accustomed—over the last few years—of playing to the end. We've had a bunch of crazy endings in the last three years. That's certainly the craziest."
— Associate Head Coach/Special Teams Coordinator Darren Rizzi was on point when he talked about the wild finishes in which the Dolphins have been involved, such as **Kiko Alonso's** last-minute pick-six at San Diego in 2016, **Reshad Jones'** game-clinching interception at Atlanta last year or the overtime victory against the Bears this season. What stands out for the Dolphins has been their ability to win most of those games, as evidenced by their 20-6 record in one-score games since the start of the 2016 season. The .769 winning percentage stands as their best in the NFL in those games during that span, ahead of New England's .750 and Dallas' .696.