The Miami Dolphins signed running back Jordan Howard on Wednesday. The NFL's second-leading rusher in 2016, when Howard played for the Bears, finds a new home in South Florida after a one-year stop in Philadelphia.
A fifth-round pick in 2016, Howard exploded onto the scene with 1,313 rushing yards en route to a Pro Bowl selection. Following up his dominant rookie season, Howard posted his second-consecutive 1,000-yard season in 2017 with 1,122 yards on the ground. Howard combined for 15 rushing touchdowns between the two years.
Since 2016, Howard has the third-most rushing yards and seventh-most rushing touchdowns in the NFL. Howard's consistent touchdown production makes him one of just five players to rush for at least six scores in each the past four season.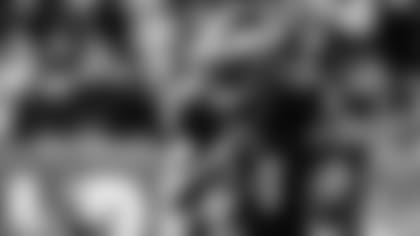 Howard's climb from humble football beginnings makes his career production even more impressive. Originally at the University of Alabama-Birmingham, Howard transferred to Indiana after the UAB program folded up shop following the 2014 season.
"Showed ability to step his game up against top competition at both UAB and Indiana. Rushed for at least 145 yards in every full game he played. Natural runner who combines tempo with a special feel for spatial relationships. Pro-­ready vision gives him outstanding feel for run lane developments at the line of scrimmage and onto the second level. Consistently chooses best angles and creases for optimal yardage. For a big back, can make himself skinny through tight quarters. Decisive and punishing. Drops pads and accelerates into contact to batter would-be tacklers on the second and third levels. Drives legs through arm tackles and goes about his work. Hard-charging when it's third- or fourth-and-short. Showed potential in screen game as receiver."
Howard earned even higher praise from the anonymous AFC running backs coach, in the same report:
"He's the best pure running back in this draft. I've coached some good ones and he's what you look for."
Howard goes an even six-feet, 230 pounds. He posted 34 inches on the vertical and 122 inches on the broad jump at the 2016 Scouting Combine. His best 40-time was a 4.59 run recorded at his Indiana pro day.
In the last three years, Howard has caught 73.6 percent of his passing targets for an average of 7.88 yards per reception.
Moving the chains has been Howard's calling card. In addition to the 30 rushing touchdowns, he's rushed for 221 career first downs. Between 2016-2018, Howard ranked third, third and ninth in the NFL in rushing first downs.
One of the more critical elements of playing running back is short-yardage play and Howard's short-yardage conversion rate is superb. On 50 career carries on third- or fourth-and-short (three yards or less), Howard has converted 37 into first downs – a 74 percent conversion rate.
Howard has 2,156 snaps on his NFL resume – an average of 539 reps per year. His pass blocking grades, courtesy of Pro Football Focus, have consistently measured near the top of his position. His lowest grade as a pass blocker is a tie between 2019 and 2017 at 75.6 – both in the "green" category (above average). His 86.3 pass blocking grade on 92 reps in 2018 was best in the NFL among backs with 32 pass blocking reps (two per game).
On 255 career pass blocking reps, Howard has allowed just nine QB pressures; seven of which were hurries (plays where the quarterback is not hit).
Howard has made a habit out of creating yardage after initial contact. His career marks are as follows (average per carry):
Table inside Article

| Year | Avg. YAC |
| --- | --- |
| 2016 | 2.98 |
| 2017 | 2.52 |
| 2018 | 2.74 |
| 2019 | 2.93 |
Despite earning a Pro Bowl nod his rookie season, Howard had an even more impressive accolade attached to his name for the 2016 season. Howard was named co-recipient of the Bears' Brian Piccolo Award winner (along with teammate Josh Bellamy). The Piccolo Award is voted on annually by Bears players and given to teammates who show great dedication, loyalty, teamwork, a commitment to excellence and a sense of humor.