Caught in the flurry of draft weekend was the signing for former Cowboys safety Kavon Frazier. The four-year pro played in 44 games in Dallas, starting two during the 2018 season. In his career, Frazier has amassed 67 total tackles, a sack, forced a fumble and made four tackles for loss on 461 career defensive snaps.
The prototypically-built safety made his mark on the Cowboys special teams' units. At six feet, 220 pounds, Frazier's NFL.com scouting report – coming from Central Michigan University – praised the broad, muscular build of Miami's newest defensive back.
"Has the physical build of a grown, NFL man with broad shoulders and muscular frame," writes Lance Zierlein. "Classic, height-weight-speed prospect. Comes downhill looking for work in run support. Explodes through his target as a hitter and looks to make statements. Has experience high and low as a safety. Good stop-start foot quickness for a big safety. Special teams demon with 14 tackles in punt and kick coverage over the last two seasons. His college coach was a long­time NFL special teams coordinator who praises Frazier's special teams potential. Should test well at the combine."
Frazier's special teams' prowess continued into the professional ranks. He played 638 special teams reps over his four years in Dallas. His participation in the third phase of the game is wide-spread. Frazier has 156 kick return, 229 kickoff coverage, 140 punt return, 145 punt coverage, and 16 reps on field goal block to his resume. He's made 17 total tackles as a Cowboys special teams ace.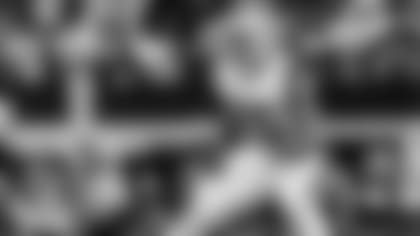 In 2017, Frazier played a career-high 226 snaps on defense. On 75 run-down snaps, Frazier made 11 run-stops – a stat accounting for tackles within two yards of the line of scrimmage, tracked by Pro Football Focus.
The former sixth-round draft pick made a habit of bringing down ball carriers in the open field. His relentless special teams motor adored him to the Cowboys fan base, as did his off-the-field contributions in the community. Frazier provided 120 laptops to Dallas area schools last summer; the latest in a long-line of charitable contributions per a story on 24/7 Sports.
"It's my favorite time of year because I really get to show an impact on these kid's lives and give back," Frazier said during the holiday season. "We gave 50 kids a $150 gift card to get whatever they want – if they want to get themselves something, if they want to get their family something for Christmas. We are giving back to what God has blessed us with. Yeah, it's my favorite time of the year."
Frazier is beloved both by his community and the coaches that spend every day around the spark plug of a football player. Cowboys Special Teams Coordinator Keith O'Quinn made his thoughts known about the key traits Frazier brought to work every day.
"First of all, he's brought a physical presence to our unit," O'Quinn said via a story on DallasNews.com. "The way he works is off the charts. He brings physicality. He's got size, he can run, and those are traits you look for initially in terms of core guys for your special teams unit."
The praise could've ended there, but O'Quinn lauded Frazier for his versatility and desire to get on the field in any fashion.
"His ability to punt at flyer, those flyers affect the punt team greatly," O'Quinn said. "Without great flyers, it's hard to have a presence downfield on coverage. He does a good job on kickoffs, too. He's a four-phase player who is a physical rusher on 'cat,' which is our punt return. It's really the physical traits and toughness he has which is what we're all about."
Physicality, toughness, and the potential to help both on defense and on special teams – that's what Frazier brings the Dolphins.