It is the most challenging turnaround of the season. Only three days between a troubling loss to the Lions and a Thursday night game in Houston against a Texans team that will test you so many ways. That's the urgency of this moment. There is so much to deal with – injuries, game plans, travel – and certainly plenty to talk about.
Much of the concern this Tuesday morning centers on the injuries at wide receiver, another area where once upon a time there was so much depth and versatility. Not anymore. The Dolphins will be without both **Albert Wilson** (hip) and **Kenny Stills** (groin) against Houston and certainly Wilson much longer than that. This is a tough blow, losing two of your best and fastest playmakers. Wilson was flying to see a specialist on Monday. In all probability, he is lost for the season. How do you replace a player with such a unique skill set, a player who is as good as anyone in the league at yards after the catch. Not sure you can.
Things got so thin at receiver against the Lions that running back **Kenyan Drake** spent much of the second half lined up as a slot receiver. "Go straight turn left" is how Coach Adam Gase explained some of their instructions to Drake, who almost never lined up there in practice. Got a feeling that might change this week.
Now it's about others stepping in and stepping up, most notably former No. 1 pick **DeVante Parker** who was not one of the 17 players listed on Monday's injury report and will see his first extended action of the season against the Texans. This is the opportunity Parker has been waiting for. What better time for him to finally start playing like a No. 1 pick?
One more note about Stills: He has only 16 catches this season, but remarkably four of them have gone for touchdowns, including his 5-yard scoring catch against the Lions. That's 25 percent of his catches. The challenge over the remainder of the season, once he returns from this groin injury, is finding more ways to get Stills the ball.
How will Adam Gase adjust the offense without Wilson and Stills? He might have to take his creativity up yet another notch, maybe using the skills of some of his running backs to offset the losses. You could almost see his mind racing as Gase spoke to the media on Monday afternoon. "We'll figure it out," he said. "We're 4-3 and we're going to get better. We're not cancelling the season and we're not shutting down."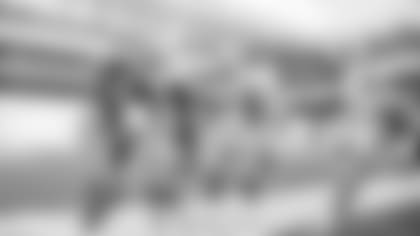 Meanwhile, of all the things that went wrong against the Lions, the most glaring was a rushing defense that gave up 248 yards, thus making things far too easy for Matt Stafford and the rest of that offense. What baffles me is why and how it happened. The rushing defense, by and large, hasn't been an issue much of this season, certainly not to the extent of what we saw against the Lions. We'll find out against the Texans whether it becomes an ongoing issue and whether the young linebackers, after a few adjustments, can respond with a better performance. I expect that they will.
The bigger issue, at least from my vantage point, is a pass rush that was supposed to be one of the strengths of this team, but instead just hasn't been much of a factor. Who could have imagined that after seven games, **Cam Wake** and **Robert Quinn** would each only have one sack? You get to the quarterback and everything starts working in your favor. You force third-and-long. You take the running game out of the equation. I understand Wake is just returning from a knee injury. I understand other players have missed significant time. But Wake and Quinn need to be a major part of the identity of this defense and so far we just haven't seen it.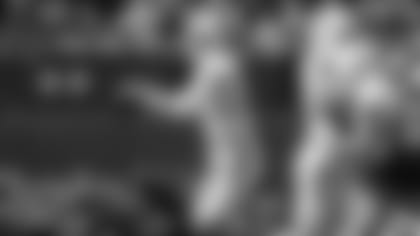 Positives? **Brock Osweiler** continues to play well in **Ryan Tannehill's** absence. You can pin last Sunday's loss on a lot of things. You can't pin it on Osweiler. He has a more than respectable quarterback rating of 107.0 after two games and has thrown six touchdown passes to just two interceptions. His 24-yard touchdown pass to **Danny Amendola** may have been his finest throw this season. I mean you couldn't have handed the ball to Amendola any better.
I also liked what I saw against the Lions from rookie tight end **Mike Gesicki**, who pulled in a nice 27-yard catch down the middle to go with an 18-yarder later in the game. With the injuries at wide receiver, Gesicki's ability to stretch the field becomes that much more important. I expect him to be a bigger part of the game plan moving forward, partly out of necessity and partly because he has earned this opportunity.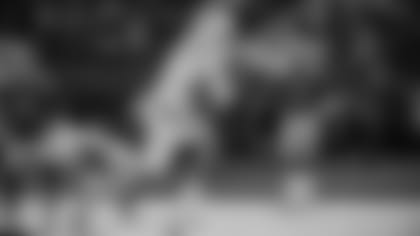 The Lions did a good job containing **Frank Gore**. Not so much with Drake who had a 54-yard touchdown run, his longest of the season. Both players are averaging closer to five yards a carry than four after seven games, certainly an encouraging sign and one that suggests a greater reliance on the running game.
A troubling stat that needs to change: The Dolphins have been outscored 123-86 in the second half this season.
The Texans, who have won four in a row, present all sorts of problems, starting with Deshaun Watson who may be as athletic as any quarterback in the league. But after what happened against the Lions, or didn't happen, I expect we'll see a full dose of running back Lamar Miller (remember him?) trying to test the Dolphins' rushing defense. This is a copycat league in so many ways. One team has success and others try to duplicate. The rushing defense put a bulls-eye on itself, giving up those 248 yards. It'll likely stay there until they do something about it.
I've never been a big fan of Thursday night games because it just doesn't seem fair, asking these players to physically and mentally turn things around so quickly. But every team must deal with it and this week it's the Dolphins' turn, their plight even more challenging being the road team. Gase has been talking all season of how this team is far better equipped to handle adversity. We'll get another clear indication of that Thursday night in Houston.