This is no misprint. The Miami Dolphins actually have a fullback on their roster.
Somewhere Larry Csonka must be smiling.
The name is **Chandler Cox**. Didn't get much publicity on draft day being a seventh round pick and all. But if you look closer, if you examine what he does and how he does it, you'll quickly see that there is a spot for him on this team. Possibly even an important spot.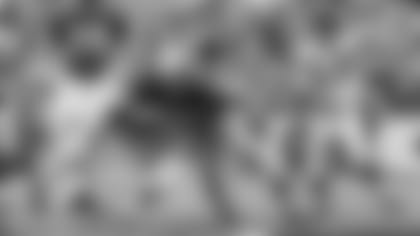 This new coaching staff brings with it many things. One thing it brings, in particular, is a desire to utilize the fullback in many of the offensive packages. We saw how successful it could be with the Patriots, the fullback playing just under half the snaps. Well, with this coaching staff sporting a distinct New England flavor, it shouldn't have come as much of a surprise when Cox' name was called.
The idea was to add some toughness to this team, a degree of physicality from the offensive backfield that could mean so much during the course of a game.
Chandler Cox seems like the perfect fit.
"He gives us more flexibility," said running backs coach Eric Studesville. "It means the defense has to prepare for something else."
Head Coach Brian Flores went even further. "(Cox) embodies a lot of the things I love about this game," he said.
That's powerful stuff considering Cox just hit the practice for the first time Friday afternoon. But Flores knows what he's getting. He also knows "one way or another" there's going to be a fullback on this roster on opening day. As of this moment, it's Cox' job to win.
Watch the videos of him at Auburn. Watch the way he takes on defenders, rarely giving ground. Watch the toughness and the tenacity. He carried the ball a grand total of 11 times in a four-year college career that included 41 starts. Interestingly, three of those carries resulted in touchdowns. But Cox wasn't drafted by the Dolphins to tuck the football under his arms; he was drafted to lead the way, to knock some middle linebacker into tomorrow and to give this offense a look that it hasn't had in a while.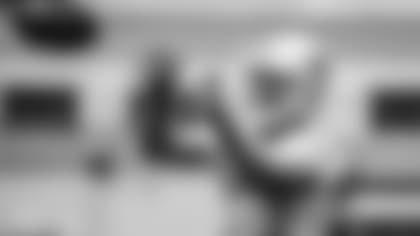 I'm not here to question why a dozen years passed since the Dolphins last drafted a fullback. Each head coach had his own philosophy. In the wide open world of today's NFL, where one back sets are commonplace and where the old style of coming-right-at-you takes a back seat to four receiver formations, it's often a waste to carry a fullback on the roster.
But not with this coaching staff. They want different looks. They want options. They want to have the ability to run a power offense when the situation calls for it. What they see in Cox is 6-feet-1, 242-pounds of force, a player who embraces this role and who could, in the big scheme of things, serve as an enormous benefit for an offensive line still with as many as questions as answers.
When Cox was drafted he called playing fullback a dying breed. Now what he wants to do is bring it back to life and prove with the Dolphins what he proved at Auburn: That there is place for player like Cox, a place for a pure fullback who was athletic enough to catch 26 passes in college, but isn't going to fool you with shifty moves or pure athleticism. He is all about a mindset. Tough and rough.
I met Cox for the first time on Friday. He is clean cut and smiles a lot, admitting at one point, "this is all still a little surreal for me."
But something happens when Cox puts on a helmet. He takes on a fullback's mentality.
"I flip a switch," he says.
And the result is a player that would rather open a huge hole than experience the glory of scoring a touchdown. "There really is nothing like it," he said. "It's the best feeling."
I expect that Cox will wear several different hats. He'll play fullback. He'll play H-back. He may even line up some at tight end. He'll undoubtedly get his shot on special teams as well. But what he does best is what he'll do in each of those roles, and that's line up to try to level the guy across from him.
Now it's a matter of doing all the little things to make that dream last. That's the attitude Cox took into this three-day rookie camp and that's the attitude he'll take into training camp. Never let up. Treat each practice like a tryout. Do something each to day to get somebody's attention.
Yes, a fullback is now on the roster once again. Got a feeling Chandler Cox just might stick around a while.