Hope breathes on for the Miami Dolphins. Barely.
It came down to a fourth down play with just over a minute left, former Dolphins tight end Charles Clay was wide open in the end zone, but a wobbly pass by rookie quarterback Josh Allen was ever so slightly underthrown, just enough to escape Clay's reach.
Dolphins 21, Bills 17. Just another ho-hum afternoon between these two AFC East rivals.
It was a game the Dolphins absolutely had to have and a victory that keeps them firmly in the playoff mix with just four games remaining, all dramatically unfolding in those final seconds, the Bills driving the length of the field, facing that fourth-and-16 with 1:05 left, Allen twisting and turning to buy time, finally finding Clay.
There was a moment almost frozen in time when you weren't sure if Clay was going to catch the ball, when the season seemed to be slipping away, when another fourth quarter failure was so close you could almost touch it. Crazy how little can separate winning and losing in this league. Crazy how it so often comes down to one play. Crazy how a season can depend on it.
"I was holding my breath for what seemed like an eternity," said quarterback **Ryan Tannehill** of that final pass to Clay. "Thankfully they weren't able to connect."
Thankfully indeed. So instead of despair there was delight, the defense dancing off the field after that fourth down incompletion, the season very much alive and December now very much going to matter. Such is the significance of one defining moment, but in truth there was so much more to this victory than that.
Two players in particular won the day for the Dolphins.
On offense there was Ryan Tannehill throwing three touchdown passes, the game-winner a beauty to **Kenny Stills** with 8:42 left, Stills out-jumping two defenders and Tannehill laying the ball in just perfectly. "Kenny made a great play," Tannehill said.
No, Tannehill didn't put up big numbers, throwing for just 137 yards and completing only 16 passes. But he was plenty good enough on those three scoring passes, first to **DeVante Parker** to cap off a second game-opening touchdown drive in two weeks, then to **Kenyan Drake** on a little pass in the flat and finally to Stills, certainly underused this season, but never undervalued.
Every Sunday there is evidence of how important Tannehill is to this offense. We saw signs of that in his first start back last Sunday in Indy. We saw even more signs against the Bills.
On defense there was **Xavien Howard** picking off another two passes, giving him four in two games and continuing to prove that he is an elite player, as good a big play corner as this franchise has been blessed with in a while. There is no player on this defense raising his game any higher than Howard. He's now doing it every week. Confident? You bet he is. "I'm the best corner in the game," he said afterward.
You look at the final numbers and you wonder how the Dolphins won this game. I mean they were outgained 415 to 175; they converted just two of nine third downs and they allowed Allen to rush for 135 yards and pass for 231.
Sometimes it doesn't make sense. Sometimes you don't need it to make sense.
You're not playing for style points at this point of the season. You're playing to survive and move on, to somehow piece together enough positives to win the only category that matters: the final score.
That's what the Dolphins can take from Sunday. That despite their struggles, despite seeing a 14-6 lead turn into a 17-14 deficit, despite needing a dose of good luck on that final play, they have evened their season and, as a result, there is a feeling of both relief and resolve. Relief because with all the injuries they are undoubtedly fortunate to be where they are and resolve because they know deep down they can do better. They have to do better.
The Patriots are coming to town next Sunday. Nothing ramps up the urgency factor quite like that.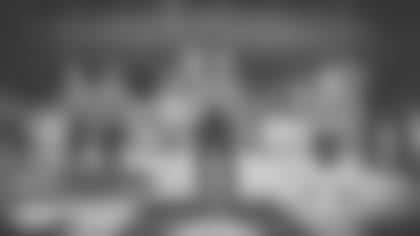 Great scene Sunday two hours before kickoff as six former Dolphins entered the team's prestigious Walk of Fame at the Joe Robbie Alumni Plaza on the north side of Hard Rock Stadium. There they were, Dick Anderson, Jason Taylor, Jon Giesler, John Offerdahl, Mark Duper and Mark Clayton wearing proud smiles and each clearly embracing this special ceremony.
What a treat, especially for someone like myself who covered the careers of so many of these players. It's a great way to bridge the past with the present, keeping the memories of these players alive for generations with their own personal star on the Walk of Fame.
"This means so much to me," said Giesler, who received a warm welcome from Owner Steve Ross, a fellow Michigan alumnus. "To see this guys again, it means the world."
A few feet away were the Marks Brothers and what a special chapter they provided in the history of this franchise. Would like to say both of them look like they could suit up today, but I can't go quite that far. "Just happy to be a part of this," Clayton said.
When the ceremony was over, when each of the six had unveiled their own piece of real estate with their names on it, the entire group of Dolphins in attendance posed for a group photo. I looked at the faces and remembered so many of the games. There was Woody Bennett. And Doug Betters, a skiing accident years ago confining him to a wheelchair. And Dan Marino. And Mercury Morris. There had to be more than 30 former players posing for that photo, a snapshot etched in time.
It captured so much, a tantalizing taste of history, a bond that will never go away and, for the six players being honored, a moment I'm sure they will long cherish.