INDIANAPOLIS — The prospects at the 2019 combine again include a good number of them who have had to get through significant adversity to reach the doorstep of an NFL career. That perseverance is a trait that's appealing to Dolphins GM Chris Grier. 
"You always want players that have had some adversity in their lives," he said. "It could be the smallest thing, but also it shows a little bit of their character and how they've worked to overcome things. Those little back stories unfold at the combine that you like hearing. That's some of the traits we've really liked about Brian. He's just earned everything as an intern running to get coffee every day to being part of one of the greatest defensive performances of the Super Bowl, and now he's the head coach of our organization."
One good example of a player overcoming hardship is Washington offensive tackle Kaleb McGary.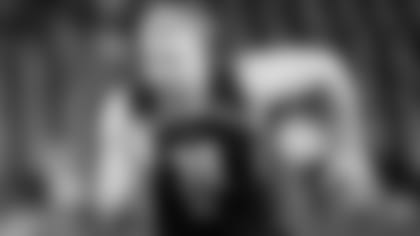 This is how he began when he was asked to describe the hardships he's encountered the past few years: "Oh boy. OK. So, fair warning: It's basically a country song, so get ready."
McGary proceeded to explain how his family lost its farm to foreclosure, his father was involved in a work accident and diagnosed with multiple sclerosis, his girlfriend broke up with him, his dog died, he had to live in an RV because his grandparents' house was unlivable because of their hoarding habits, and then a few years later the RV caught on fire.
Oh, and we also should mention that McGary was diagnosed with arrhythmia a few years back, though it's been a non-issue since he had a couple of medical procedures in his freshman and sophomore years of college.
Now that he's on the verge of going to the NFL, McGary can appreciate what he's got and he's something who clearly won't take anything for granted.
"It kind of lends to that perspective that I took away from all of this, shows me, wow, how easily I could not have any of this," McGary said. "Being technically homeless for two years will make you see things a little differently. It's given me a tremendous amount of appreciation and excitement, really. It's almost hard to believe that that this is a dream I've had since the fourth grade. As my life has gone on, all I've gained is more motivation, more drive, more reasons to continue and push on. And now finally knocking on the door of that dream, it's kind of a weird feeling, but it's really cool."
Going Hollywood: Wide receiver Marquise Brown from Oklahoma won't be able to work out at the combine because he recently underwent foot surgery, but he talked to the media Friday and did so while wearing a chain around his neck with the word "Hollywood." It's a tribute to his nickname, which comes as a combination of his flashy style and also his South Florida hometown. And as a native of Hollywood, Florida, he said he grew up a Dolphins fan. "I liked the Dolphins," Brown said. "I went to their games. My first costume was a Dan Marino uniform." Brown, who said he expected to be fully healthy by the start of NFL training camps in late July, is the cousin of Pittsburgh Steelers Pro Bowl wide receiver Antonio Brown, who starred at Miami Norland High School. While he's been compared to DeSean Jackson, Marquise Brown said he watched his cousin's games as often as possible and also wanted him to do well. But … "They play the Dolphins, I'm going to root for the Dolphins." Marquise Brown was considered a likely first-round pick before his foot issue surfaced, though he's still likely to get drafted earlier than Antonio, who was a sixth-round pick out of Central Michigan in 2010. "He talked to me about it," Marquise said. "He's like, I should have no excuse. He went in the sixth round, whatever round I'm going … I feel I'll go higher than that. He says I have no excuses. He wants me to be better than him, so that's what I'm aiming to do."
Player profile: The Dolphins are busy watching, examining and interviewing prospects at the scouting combine this week, and Brian Flores certainly has some traits in mind he wants to see from his players. He made that clear when he said he wasn't necessarily looking to bring in former Patriots players, but wanted his players to possess certain qualities. "I think it's important to bring in players who want to play our style and do the things … first, I would say bring the culture, bring the leadership and the toughness and the intelligence that we're looking for," Flores said. "I don't care where that player comes from. Hopefully we'll find a good number of them this week. … We're not going to be able to pick every guy we like, I understand that, but we get to know them and maybe down the line this conversation that was had here just kind of helps that process 2-3 years from now. 'Oh, we talked to so-and-so at the combine. That was a good interview.' And he's available. Things like that. This is all important. Not just for right now, but in the future." 
The lone fullback: The Dolphins have not employed a fullback in recent years, but that might change with Brian Flores as the new head coach. While few teams employed a fullback in 2018, it should be noted that three of the four championship game participants — including Flores' former team, New England — had a fullback on their roster. That was encouraging for Wisconsin's Alec Ingold, who happens to be the only fullback prospect at the 2019 combine. "One hundred percent," Ingold said. "Every season, once I got moved to fullback, that's what I was watching all the time. I think that's been the story pretty much the past four or five years. Just to play in cold weather, gritty football, that's what I'm trying to do. Successful teams use it. Trying to find a team like that, that's on the rise and getting successful fullback play is a big part of their game. That's what I'm going to try to do." Ingold was moved to fullback after spending one week as a scout team linebacker as a freshman in 2015, something he did well enough to earn the scout team player of the week honors for Wisconsin. While he was confident other fullbacks would shine during their Pro Day, Ingold did admit a sense of pride at being the only invited to the combine. "It's a blessing, I feel like," he said. "I'm just trying to be a good football player here. That's what I try to tell everybody. I'm just trying to make the team as a football player and make their team better. I think that mind-set will carry a long ways. Fullback isn't the best, well-represented position here. Just being able to show them I'm going to make their team better regardless of where I am on the field is what I'm trying to do."
Combine highlights: On-field drills began Friday for running backs, offensive linemen and specialists, and Oklahoma State running back Justice Hill turned in the fastest time of the day in the 40-yard dash with a 4.40. Running back Travis Homer from the University of Miami had the fifth-fastest time at 4.48, but it was a disappointing performance for FAU back Devin Singletary, who came in at 4.66. Washington State tackle Andre Dillard ran a 4.96, a remarkable time for an offensive lineman. … N'Keal Harry of Arizona State and D.K. Metcalf of Ole Miss tied in the bench press among wide receivers with 27 reps each. … Morgan State tackle Josh Miles had a 36-inch vertical jump, the highest mark for anybody at the position since at least 2006.
Tight end talk: It was a year ago that the Dolphins drafted tight end Durham Smythe out of Notre Dame and his successor as the starter is now at the combine hoping to follow in his footsteps as a draft pick. That player is Alize Mack, who caught 36 passes in 2018, and he said Smythe was a great role model for him at Notre Dame. "Oh man, that was Big Bro," Mack said. "You're talking about a guy who did all the things right. Great practice player, very detailed in his work, very mature. He was a leader for sure. It was tough to see him go." Smythe was the second of two tight ends drafted by the Dolphins last year after Mike Gesicki, whose quarterback Trace McSorley is a draft prospect this year. "He's a great teammate, one of my favorite guys to this day," McSorley said. "I talk with him a bunch. He texted me right before I got here, gave me some pointers about how this week will be. But at the end of the day, he told me just go be myself. I think that's something that I've been able to always stay with me. Mike is a great guy, incredible teammate and obviously an incredible athlete that a lot of people have been able to see."