December brings about many traditions. While the holiday season welcomes snowfall throughout portions of the country, South Floridians receive a different gift in lieu of a white Christmas – Dolphins-Patriots.
Since 2004, the Patriots have made their annual Miami trip in the month of December nine times. The second of those trips came in 2006, pitting a 9-3 Patriots squad against the 5-7 Dolphins. New England developed a consistent winner due in large part to one over-arching theme, according to former Dolphins wide receiver Marty Booker.
"They're very disciplined," Booker said. "They never messed up and the minute you mess up, they jump on you and capitalize. So our goal was always to stay disciplined and not make mistakes because we knew if we did, they would jump on it and probably put you away."
On December 10, 2006, it was Miami who was forcing the issue over the reigning division champs three years running. On course for a fourth straight AFC East title, New England ran into a road bump in Miami. The Dolphins played turnover-free football while claiming three takeaways of their own. The first six points of the game came off the foot of kicker Olindo Mare, but it was Booker's 32-yard touchdown reception from quarterback Joey Harrington that pushed the lead to two scores heading into the game's final period.
"I was going on a deep over route," Booker said. "I was the last read, so once I got over there the safety was on the other side. It was one of those balls that if Joey put any more air under it, it could've been an interception, but he put it on a dime and I was able to pull it down."
Harrington started 11 games that season in place of injured starting quarterback Daunte Culpepper. After throwing seven interceptions in his first three starts as a Dolphin, Harrington heated up. Over the next six games, he threw for nine touchdown passes and 1,262 yards. The Dolphins won five of the six culminating in the Week 13 shutout win over the Patriots. The final touchdown pass by Harrington in a Dolphins uniform was that 32-yard strike to Booker.
"The excitement of scoring on the Patriots, getting that two-score lead, the excitement kind of took over so I gave it a little two-step," Booker said. "I might've thrown the ball into the stands … I was just really excited."
During his four years in Miami, Booker caught passes from nine different quarterbacks, so he was having fun when Harrington caught fire.
"We got on a hot streak and had some wins with Joey," Booker said. "We ended up getting ourselves back into the mix but lost to Jacksonville and that hurt our chances. But for the most part, Joey came in, got on a tear and was playing some good football. He gave us an opportunity to make plays."
In that era, however, it was the defense that was the most opportunistic. Though his sack in this game was on backup quarterback Matt Cassel, no player has brought down Tom Brady more than Hall of Fame defensive end Jason Taylor; and no season was better for No. 99 than that 2006 campaign.
Taylor recorded 13.5 sacks, nine forced fumbles, two interceptions and scored a pair of touchdowns en route to the 2006 Defensive Player of the Year Award.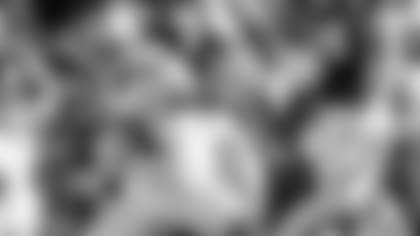 "Everything about that season was consistently great with him," Booker said. "He always had that speed off the edge; but that year, he was always getting the ball. Whether it was stripping it and picking it up or reacting to a quick pass and intercepting it. It was just amazing all year."
On the other side, the Patriots defense had plenty of talent of their own. They finished second in scoring that season at just 14.8 points allowed per game. Booker says their pass rush, regardless of who was in the game, was always a tricky puzzle to solve.
"They always had a good pass rush," he said. "They were always coming no matter what. We were able to block them up, move the ball a little bit and have a good day offensively."
It's impossible to turn on a Dolphins home game without mention of the weather, and there's a reason for that. It's not just the fall months that prevent a challenge for the visitors, it's an adjustment regardless of the time of year.
"It's a big adjustment. I learned that when I first got there," Booker said. "Your body and blood thickens up in that cold so once you get down here, it's hard for you to breathe and hard for you to adjust no matter what time of year it is."
There's been nine December Dolphins-Patriots games played in South Florida since 2004 and Miami is 7-2 in them, looking to make it eight of the last 10 this Sunday at Hard Rock Stadium.