For lasting only two years and 32 games in Miami, the brief Nick Saban era had a way of leaving a lasting legacy among those who were a part of it. Former linebacker Channing Crowder wasn't thrilled about sliding to the third round of the 2005 NFL Draft, but he quickly got over the initial disappointment when he realized what type of defense he was stepping into under Saban.
While the Dolphins ranked just 15th in scoring and 18th in total defense in 2005, the names on that side of the ball were a veritable list of NFL legends mixed with a supplemental handful of proven, productive players.
Players like Jason Taylor, Sam Madison, Zach Thomas and Junior Seau. For a wide-eyed rookie like Crowder, the tutelage of the latter two players helped the 21-year-old grow up in a flash.
"I was All-American in college," Crowder said. "But when I got to the pros, Zach had to baby feed me. I had so much to learn from him. Him and Junior. Having two Hall of Fame linebackers in my room. It was a great situation with great guys. That's why I stayed in Miami. There are great people down here."
The 2005 season opener against the Denver Broncos pit a popular preseason Super Bowl pick up against the Dolphins, a team coming off the worst season in the franchise's storied history since 1969's 3-10-1 team. After a slow start for either offense, it was that Dolphins defense who made the first game-changing stand.
Protecting a 6-0 lead late in the first half, the Broncos had a first-and-goal from the Miami 3-yard-line. Due to a defensive offsides on third down, Denver had five cracks and breaking the goal line and getting on the scoreboard, but access was denied.
Broncos quarterback Jake Plummer threw incomplete passes on both of the third-down attempts (third down repeated due to the offsides), but perhaps Denver should've thrown on all five tries. Not once, not twice, but three times Zach Thomas flew into the Broncos backfield and stuffed running back Tatum Bell for no gain.
"Zach knew those plays" Crowder said. "When they were in the huddle he knew which gap it was going to, which guard they like to run behind on short yardage, where they're going to motion the wing from. He knew it already. It was so amazing to watch. That's why he went to Pro Bowls. It energized you to see all of his study and work pay off year after year."
Fans remember that era of Dolphins football in large part for the many plays made by both Thomas and Hall of Fame defensive end Jason Taylor. Thomas got the defensive party going with that goal-line stand, and Taylor put the exclamation point on the blowout with an 85-yard fumble return for a touchdown, the longest in Dolphins history.
"Playing with J.T. was crazy because you knew he was going to not just make a play, but a gigantic play," Crowder said. "That's why he's a first ballot Hall of Famer. They couldn't block J.T. when they were rested. You get to the fourth quarter, tired, heavy breathing, no way they were going to be able to block him then."
That touchdown made it 34-10 and capped off a 21-point fourth quarter by the Dolphins.
The game stayed within one score up until 4:47 to play in the third quarter when tight end Randy McMichael caught a 2-yard touchdown pass from quarterback Gus Frerotte.
That was when Crowder and Dolphins knew the Broncos were wilting in the South Florida summer heat.
"The Miami Herald cover said something about the 12th man after the game," Crowder said. "Their sideline was 120 degrees. Between snaps, as soon as the ref blew whistle, Champ Bailey would take his helmet off and take a knee. That's why you schedule games at 1 o' clock because it is hot and humid like something else. There's no wind. There's nothing moving and you saw them slowly breaking down."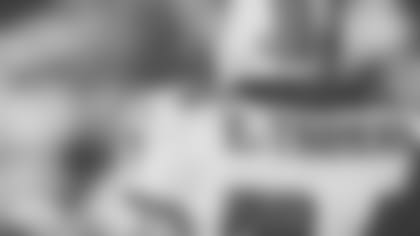 The defense put the ball right back in the hands of Frerotte and the offense after a Broncos possession took just 1:21 of game time off the clock. The Dolphins marched 68 yards and capped the drive with a 9-yard Sammy Morris touchdown run.
After another defensive stop, the Dolphins made their first big mistake of the game. Wide receiver Wes Welker fumbled the football on a punt return, setting up Denver deep in Miami territory. Jake Plummer delivered a touchdown to Kyle Johnson and it was suddenly a 10-point game with 9:24 to play.
Miami quickly seized control on the first play of the following possession. After a kickoff out of bounds, Frerotte found wide receiver Marty Booker for a 60-yard touchdown strike that was largely run after the catch, much to the surprise of Crowder.
"Look," Crowder said on Drive Time with Travis Wingfield. "Book ain't fast. He wasn't fast. He's not fast now, his kids probably aren't fast. He ran a 4.7, those defensive backs ran 4.4's. In the fourth quarter, Book's 4.7 looked like a 4.4. And it wasn't just that game. You'd see guy's bodies just breaking down in that humidity.
Miami intercepted Jake Plummer on each of the next two possessions before putting the ultimate capper on a dominant performance. Jason Taylor came free off Plummer's blindside with the Broncos threatening at the Miami 6-yard-line. With only four seconds to play, Taylor hit the hat trick with the sack, scoop and 85-yard score.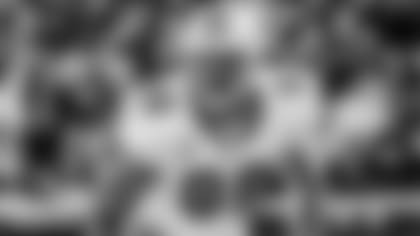 The Dolphins won two of the first three games of that 2005 season before sputtering to a 3-7 record. The season turned around, however, sparked by a 21-point comeback over division rival Buffalo. Miami won six straight games to finish the season.
In 2006, the Dolphins finished fourth in total defense and fifth in scoring. Crowder enjoyed a breakout season with 104 total tackles a sack, a forced fumble and four pass breakups.
"I didn't go to any Pro Bowls, let's be honest; but playing with those guys definitely helped me take my game to another level and it all started in that first game, a big win over the Broncos," he said.