Head Coach Brian Flores addressed the media before the start of minicamp practice Wednesday. Here were some comments that stood out, along with some perspective:
"Until we get to the nitty gritty of training camp, it's too early to say this guy is the starter or that guy is the starter."
—The quarterback competition understandably is drawing a lot of attention, but Flores said it was way too early to talk about one player having the advantage over another. Flores added that everything will be considered when it comes time to name the starting quarterback.
"I have high expectations. I'm always going to say we're behind."
— After hesitating when asked whether there were areas where he thought the Dolphins were ahead or behind where he thought they would be at this point, Flores made it clear that his team always can be better in his eyes.
"We're looking for that leadership from him. We'll try to demand that out of him."
— Offensive tackle **Laremy Tunsil** has steadily progressed as a player since being a first-round pick in 2016, but Flores wants him to take another step in the leadership department.
"I'm hard on Mike because I see a lot of potential in him."
— Flores says second-year tight end **Mike Gesicki** has been working very hard this spring and has been making progress, though he's always looking for more from the 2018 second-round pick.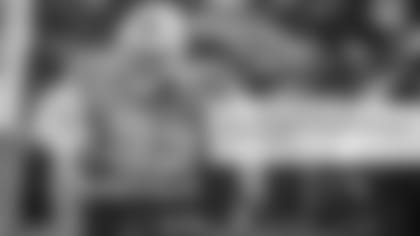 "He's a hard worker. This guy works as hard as anyone we have on this team."
— Defensive tackle **Akeem Spence** is one of the few veteran defensive linemen back from last year, and Flores explained some of the reasons the Dolphins wanted to retain him. Along with the intangibles, Flores likes Spence's athleticism.
"I think I'm measured when I talk about anyone."
— After his first answer about Tunsil, Flores was asked about his measured comments in his assessment and he revealed something that has has become obvious: The Dolphins head coach will never made bold proclamations about individual players. It was the same way after Pro Bowl cornerback **Xavien Howard** signed his contract extension and Flores was quick to say that Howard had some areas where he needed work.