Head Coach Brian Flores addressed the media before the start of practice at rookie minicamp Saturday. Here were some comments that stood out, along with some perspective:
"He's a versatile player. He's somebody that could move around in the backfield and the tight end position. He's going to move around."
— Seventh-round pick **Chandler Cox** did some work with the tight ends in the portion of practice open to the media Friday, even though he was drafted as a running back and played fullback at Auburn. Flores said we can expect to see Cox used a variety of ways, including special teams, and even pointed out that he could throw passes because he played quarterback in high school.
"I like his assertiveness at the quarterback position. He clearly has some leadership ability."
— Former University of Miami starter Malik Rosier is among the players trying out for the Dolphins this weekend, and Flores said he had a good first day Friday. Rosier was joined as a tryout quarterback by Sean McGuire.
"When you've got a guy that long, that much size, it's hard to get around a guy like that. That definitely benefits him."
— Rookie sixth-round pick Isaiah Prince had great measurables for an offensive tackle with his height and long arms, and Flores said there's no doubt Prince is a talented prospect, though he does need some development.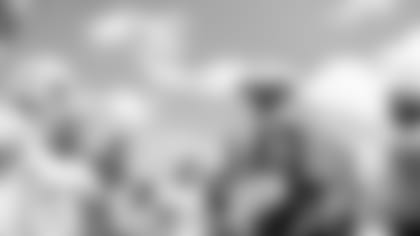 "We were able to sign a few guys we felt really good about. We feel good about this rookie free agent class, as well as the guys we drafted."
— The Dolphins' group of **18 undrafted free agents** included four prospects who were invited to the scouting combine (G Shaq Calhoun, DE Jonathan Ledbetter, LB Terrill Hanks and CB Montre Hartage). Flores said the bottom line, though, is that draft status doesn't matter anymore once everybody is at the practice facility.
"He's got size, he's got the power, he's smart and he's got some versatility also."
— First-year defensive tackle Kendrick Norton spent some time on the Dolphins active roster last season, and Flores likes his potential. Norton is one of four former University of Miami players at the rookie minicamp along with QB Malik Rosier, RB Mark Walton and TE Darrell Langham.