Each week, "In My Own Words" looks back at a past game against this week's opponent through the eyes and words of a Dolphins player who played a key role in that game. This week, Hall of Fame quarterback Dan Marino takes us back to Sept. 4, 1994, when coming off a torn Achilles tendon that sidelined him for the final 11 games in 1993, he threw for 473 passing yards and five touchdowns in a thrilling opening-day win against the New England Patriots at Joe Robbie Stadium.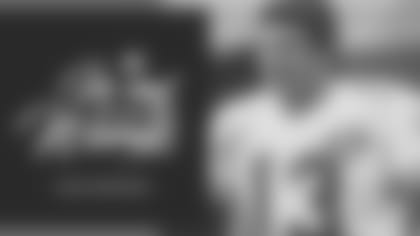 Getting injured in the early part of the 1993 season was devastating. I felt like we had a really good football team. We were 3-1 at the time it happened in Cleveland, and it was tough to deal with the idea that my season was done.
Soon after that, I realized that a ruptured Achilles tendon is one of the most difficult injuries to come back from. It's time consuming and tedious. You go through times when you aren't making the progress you should be, and that's very frustrating. I had to be more patient than I had ever been before.
Making matters worse, the surgery to fix the Achilles didn't work the way it was supposed to.
The tendon atrophied and elongated, so I couldn't put weight on my toes and push off the front of my foot when I was throwing the ball. All of that made for a long few months, beginning when I got hurt and lasting through the start of training camp in 1994.
I didn't do well in the preseason games I played in. In fact, I struggled for the first time in my career. I was testing my right ankle and trying to figure it out, but it wasn't going well. The way I played that preseason — and especially in the last pre-season game, when I thought I would be more comfortable but still wasn't productive at all — brought about some question marks from people covering the team.
Going into our season opener against New England, there were a lot of people doubting me, but I had no doubt that I could still win games. I knew that I would be able to play well. I was used to playing at a pretty [darn] high level before that, so the only thing I wasn't sure of was what level I was going to be able to get back to.
The game was played right after it had been raining, and the baseball infield at Joe Robbie Stadium was basically a mud pit. But that helped me because everyone else was sliding around. Even though I couldn't move as well as I did before, I felt like I was still going to be able to make people miss.
That's what I had to do on a third-and-10 play at the end of the first quarter. I took off running, and I dove into the mud for a big first down. That was the moment in my comeback where my mind and body took over, where you just figure out a way to make it happen.
[Patriots quarterback] Drew Bledsoe and I both kept our teams in the game during the first half. When Drew connected with [tight end] Ben Coates in the third quarter to give the Patriots a 21-10 lead, I began to feel a lot of urgency to start matching points with him. In those kind of games, you feel like you have to score every time you get the ball.
Pretty soon after that, I was able to hit [tight end] Keith Jackson for a touchdown, and that made me feel like there was going to be a lot more scoring for both teams down the stretch. I kind of felt that whoever got the ball last was going to win.
Now we were losing by 10 points late in the third quarter, and we were facing a third-and-long from around the 50-yard line. As I was moving around in the pocket, [wide receiver] Irving Fryar was running an in pattern, and when he saw me scramble a little bit to the outside, he turned up field. New England's safeties didn't go with him, and he was able to beat the cornerback up the field. I was able to make a good throw for another touchdown.
For as memorable as my first four touchdown passes were that afternoon, none of them were as cool as the last one. It was fourth-down-and-5 with a few minutes left in the fourth quarter. We were losing by three points, but Coach Shula had no interest in trying to kick a long field goal to tie the game, and I felt the same way. We were going to run a short pattern on the left side just to get the first down. But coming out of the huddle, I told Irving that if he got bump-and-run coverage, we should just go deep and end it right there. We nodded at each other when he got to the line, and he took off for the end-zone.
The play worked out perfectly. It was an exciting play, and to win the game that way was pretty special. I had confidence in myself. I wasn't concerned with what other people thought going into that game, and on that play, I knew that I could deliver the same way I had so many times before. The satisfaction I got from coming back from the injury and winning that game is something that will always be with me.