Each week, "In My Own Words" looks back at a past game against this week's opponent through the eyes and words of a Dolphins player who played a key role in that game. This week, legendary wide receiver Mark Clayton takes us back to Dec. 17, 1984, when he caught three touchdown passes in a victory against the Dallas Cowboys at the Orange Bowl. Clayton's third touchdown on that memorable Monday Night at the Orange Bowl was his 18th on the season, eclipsing the NFL record, previously set in 1961 by Bill Groman of the Houston Oilers.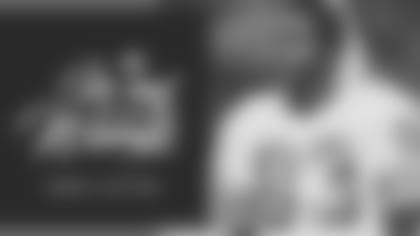 The pressure really started mounting for us in the week leading up to the game against Dallas. We were 13-2 going into that game at the Orange Bowl, and for the first time that season, I felt like we were really attracting a lot of attention. We had quite a few former players, including several members of the 1972 undefeated team, at our practices that week. I was meeting most of those guys for the first time, and they were interested in what we were doing. That was pretty cool.
I needed three touchdowns to break the single-season record, and Dan was closing in on 5,000 passing yards, which no quarterback had ever reached before. I know that Dan was aware of the record he was about to break, but I had no idea what the record for touchdown receptions was until I tied that mark. More importantly, we needed to win that game to secure home field throughout the playoffs, and Dallas needed to win just to get into the playoffs.
When we came out of the locker room for the game on Monday Night, a bunch of our former players were already on the sideline. That's when it hit me that this was a big game. The pressure was enormous, but we felt good because we had a good week of practice, and, of course, we were playing in the Orange Bowl.
We wanted to start fast, get a lead and make them catch up to us all night, because we didn't think they could match our firepower. In the second quarter, the Cowboys blitzed Dan, and like always, he was able to get the ball to me before any of their linemen could get a hand on him. The pass was almost intercepted, but I was able to catch the football in the middle of the field. Once I got to sideline, I had a blocker in front of me, and I was able to turn up field and get into the end-zone.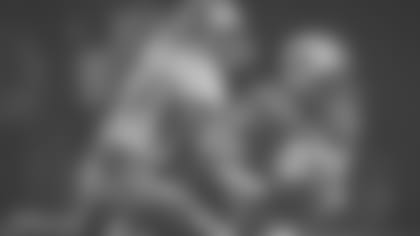 With the game tied in the fourth quarter, we ran that same play, and again, the defensive back covering me tried to jump the route and make an interception. I caught a pass and ran down the sideline without anyone coming close to catching me.
After my second touchdown, a few people came up to me on the sideline and told me that I had tied the record. But I never thought that I would have a chance to break it because we were winning late in the fourth quarter. Then, Dallas quarterback Danny White threw a pass that should have been intercepted, but instead, it got tipped into (wide receiver) Tony Hill's hands. He ran down the sideline to tie the game at 21.
We got the ball back with about two minutes left. Dan got us into the huddle and said that he was going to bring us down the field and that we were going to win the game. At that point, I was thinking about winning the game and breaking the record. That's what I wanted to do.
With less than a minute left, Dan called the same play that I had scored on twice already — 70 Texas, as we called it back then. I ran a short route and caught the ball right around the 50-yard line. Once I came over the middle and caught the ball, the defensive backs slipped, and I knew that I could outrun everyone else.
It meant a lot to break a record that had stood since the year I was born. I had heard of Bill Groman, and I felt that anyone who was able to score 17 touchdowns back in 1961 when they weren't really throwing the ball must have been a pretty special player.
Breaking that record was great, but I loved winning more. I also loved knocking the Cowboys out of the playoffs. I'm not a Cowboys fan. I'm not sure who crowned them America's team, but it certainly wasn't me. Looking back, that may have been just as sweet as breaking the record.
To do what we did that season, and that night, was very special. Dan finished the regular season with 48 touchdown passes and more than 5,000 yards, and I scored 18 touchdowns. Those were astronomical numbers for any era, but especially back then, that was incredible. We had a great group of guys, and we put a lot of work into our craft. There were plenty of days when we stayed on the field after practice was over, so I really wasn't surprised by any of things that we accomplished that season.