Each week, Dolphins.com looks back at a past game against the current week's opponent through the eyes and words of a Dolphins player who played a key role in that game. This week, former safety Louis Oliver takes back to Oct. 4, 1992. In a 37-10 win over the Buffalo Bills at Rich Stadium, Oliver recorded three interceptions and returned one of his INTs for a 103-yard touchdown. Oliver's return ties for the NFL's all-time longest interception return with a 103-yard return by San Diego's Vencie Glenn against Denver on Nov. 29, 1987.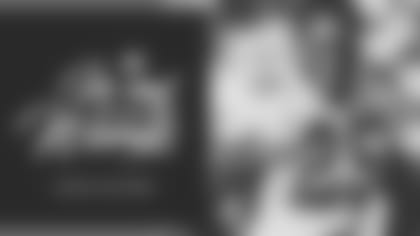 Back in the early '90s, the Buffalo Bills were a stacked team. They went to four straight Super Bowls. They had the running game with Thurman Thomas, they had the passing game with Jim Kelly, Andre Reed, Don Beebe and Steve Tasker. They ran that no-huddle, hurry-up offense to perfection and we had a tough time with it. 
Rich Stadium was very tough because the fans were right at your back. When you're on the sideline, they were literally 10-feet behind you screaming your name and calling you all types of profane things. When we pulled up on the bus at the stadium they would have fish hanging from strings as if they were just hanging a dolphin. Their fans came out early and started with their heckling once you got on the field. It was like they were right on top of you like a swarm of bees.
It was tough for us to establish any type of dominance over Buffalo. At that time, they were pretty much the creme de la creme of the AFC East. But this day, we came in with a defensive strategy that pretty much worked and we came away victorious. We were both 4-0 coming into the game. This game meant a lot for both teams.
I woke up that morning and, for whatever reason, I had a premonition that I was going to get three interceptions. (Defensive backs) Coach (Mel) Phillips came up to me before the game and told me that he needed a big game from me. I told him that I was going to get three interceptions and he said that we were going to need every one of them. Well, it just so happened that I got those three interceptions and we won the game.
Early in the game we were tied at 3-3. Defensive coordinator (Tom) Olivadotti called a blitz and (John) Offerdahl delayed the blitz and tipped the ball and it fell into my hands. When you can make a play that causes a turnover it's big for any team. That interception led to the first touchdown of the game when Dan (Marino) hit Keith Jackson. Anytime you can help the offense out by getting them better field position you are doing your job. 
Later in the game we are leading 24-10. They had started on their own 20-yard line and went about 12 or 13 plays to our 5-yard line. I got knocked out of the game for two or three plays on that drive by Steve Tasker. I came back in and they're at our 5-yard line. The year prior, they had run a play on us at that same end zone and I picked that pass off. This time, they flipped the formation and ran it to the other side of the field. When I saw that formation again my eyes just lit up. I knew he was going to try to hit that outside curl route. I just jumped (in front of) it and headed out of the end zone. Kelly was trying to catch me and then he dove at my feet. I didn't think he could catch me, but I was just so tired from that drive. I had made 8 tackles on the drive and got knocked out of the game. When I picked the ball, I just told myself to get as close to the sideline and run as fast as possible. That's what I did and fortunately I scored (on a 103-yard touchdown). When I got to the end zone, (safety) Jarvis Williams pointed to me like he's going to try to jump on me. I told him, "I'm too damn tired. Don't touch me. Don't nobody touch me." I just went to the sideline and grabbed that oxygen tank.
For my third interception they had us in Cover 2. He (Kelly) was trying to hit James Lofton down the middle, but I broke from the outside and caught the ball in the end zone. I was thinking that this time the when I scored it was going to be longer than the other touchdown. I came out of the end zone and cut across the field, but by that time I was out of gas and Lofton caught me. I was okay. I said to myself, "I'm good enough. I'm good right now." I feel like I'm still breathing hard from those plays (laughs).
We were ecstatic in the locker room because Buffalo had given us fits for so many years. To go to Buffalo and beat that team the way we beat them with all that talent they had was very satisfying.