Each week, Dolphins.com looks back at a past game against the current week's opponent through the eyes and words of a Dolphins player who played a key role in that game. This week, wide receiver Oronde Gadsden takes us back to Oct. 10, 1999 when the Dolphins set a franchise record by posting 25 fourth-quarter points, and in the process erased a pair of nine-point deficits to earn a 34-31 triumph over the Colts at the RCA Dome. Quarterback Dan Marino threw a pair of touchdowns in the final period, including a two-yard strike to Oronde Gadsden with 27 seconds to play lifting Miami to victory. In the game, Gadsden caught 4 passes for 123 yards and converted a fourth-and-10- situation late in the game to keep alive the game-winning drive.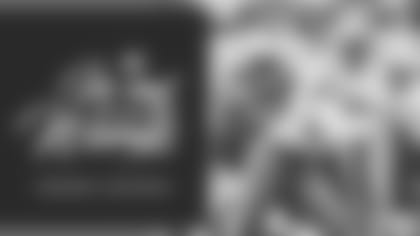 The whole week leading up to the Colts game was special. We knew this game was going to be a battle of the quarterbacks. (Dan) Marino was towards the end of his career and (Peyton) Manning had just gotten in. This It was just my second season starting in the NFL so that was that was pretty exciting for me. We were a veteran team going up to play a young phenom in Manning. It was obvious that Peyton wanted to do good for his team and Dan wanted to show that he still had it against the young, gunslinger. It turned out to be just that and went down to the wire. 
I think we had a pretty good receiving corps. There was me, Tony Martin, O.J. McDuffie and Lamar Thomas. O.J. was the consummate professional. A possession receiver. Tony had the speed. I was young and I had to fit in when I got my shot. The Colts had stars as well with Edgerrin James at running back and Marvin Harrison and Reggie Wayne at wide receiver. We knew they were going to score.
The Colts played in the RCA Dome and the hotel we stayed at was connected to the stadium. We took the walkway directly into the stadium. We never had to go outside no matter how cold it was in the city. I felt I always had good games against the Colts because of that hotel. It's the little things that you remember, like the fact the beds were so soft in that hotel. I always got some good sleep and knew I'd be ready to go when we played the Colts.
We were down 3-0 and the Colts drove down to our one-yard line, but Zach (Thomas) forced a fumble and after a long return we got the ball back around midfield. At that time, our defense was special. It had superstars all over the place. Zach's play and the long return helped us a lot. It set up a short field for us. We knew that when we had to only go 50 yards and we've got Dan Marino, that's always going to be in our favor. That drive led to a field goal and then (Head Coach) Jimmy Johnson went for an onside kick. Jimmy was one of the best coaches I've ever been around in feeling the pulse of the team. He knew we had to get up in a game like this because it was going to be a shootout.
On the next drive, we faced a third-and-three and I caught an 11-yard pass. They knew the ball was most likely going to O.J. and they covered him with like 17 people (laughs). Tony Martin was going to be one-on-one with a deep ball. I'm not going to say that I was the forgotten guy, but I was just a newcomer and they didn't know what I could do. My secret to success on third down was simple. I was just bigger than the defensive back. Every once in a while I get a one-on-one coverage and Dan would come to me. It just showed me that Dan really had confidence in me and I couldn't ask for much more.
In the third quarter we are trailing 17-9 and it was third-and-17. I caught a 62-yarder and dragged guys with me towards the end zone. We ran a skinny post (route). I knew coming out of the huddle that the ball was coming to me. O.J. and Tony would be decoys and Dan was throwing to the young guy. He put the ball in a place where only I could catch it.
Late in the game, they were up 31-25 with just two minutes left. Peyton took an intentional safety to try to run out the clock. It was probably a good idea for them. We were still down by more than a field goal, but with less time on the clock. The strength of our offense was our passing game. We were built to come from behind. Dan was the ultimate competitor. He wanted to compete and be there for his team. He knew "go" time in the game was his time. Dan just walked up to us and said it's time to go. When we heard that, we knew we had to go and let him know that we had his back.
We moved to midfield, but faced a fourth-and-10 with a minute left in regulation. During the timeout, Jimmy said to run the hitch (route). When we got on the field, Dan said to run the go (route).I was just a rookie coming from the arena league. I was torn. Do I listen to the head coach who gave me a shot? Or do I listen to the Hall of Fame quarterback? I decided to listen to the quarterback. I ran the go route and Dan hit me for 48 yards and a first down at the two-yard line.
After an incomplete pass, Dan looked at me in the huddle and said if we get a one-on-one I'm coming to you. I just remembered back to all those times playing in the backyard growing up and all the hours on the practice field to get me to the point where a Hall of Fame quarterback says he's coming to me with the game on the line. He just said he's going to throw the fade and I'm going to catch it. The fade (route) was my bread and butter. It's those catches that solidify you in the quarterback's mind that he can run that play again for me and helped propel my career.
The officials took a little bit of time before they called it a touchdown. I knew from the start that I beat him on the route and I caught the ball. So those two things I had down. I knew I had gotten a foot in before the defensive back pushed me out of bounds. It was definitely a touchdown. Funny that now it would not have counted because they no longer have the push out rule. When it was all done, I was just happy to be part of a big win on the road.