Each week, "In My Own Words" looks back at a past game against this week's opponent through the eyes and words of a Dolphins player who played a key role in that game. This week, former quarterback Don Strock takes us back to Jan. 2, 1982. It was a record-setting showcase of the passing game that resulted in NFL playoff marks for most points (79), most total yards (1,036) and most drama as the San Diego Chargers outlasted the Dolphins, 41-38, in overtime. Coming off the bench, Strock completed 29 of 43 passes for 403 yards and four touchdowns. "The Miracle That Died" was the Miami Herald headline after the Dolphins rallied behind Strock to overcome a 24-point deficit. The Pro Football Hall of Fame voted the contest as the "NFL's Game of the '80s."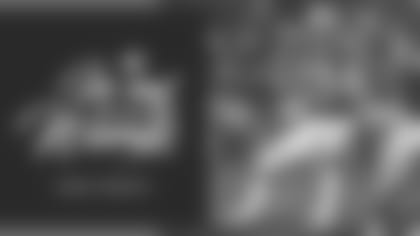 San Diego was a tough team and had one of the top offenses in the whole league, with (quarterback) Dan Fouts leading the way. They had (running back) Chuck Muncie, (tight end) Kellen Winslow, (wide receivers) Wes Chandler and Charlie Joiner and a pretty darn good offensive line in front of them too. They were going to be a tough task no matter what happened in the game. When they jumped out tp that huge lead things weren't looking really good.
We had the WoodStrock thing going at quarterback with David Woodley starting and me coming into games in relief when needed. San Diego was playing a lot of man-to-man coverage and that wasn't David's forte. He was more of a zone guy, throw it in a hole that type of thing. So the kind of defense that the Charters played suited me better.
It looked like disaster with San Diego leading 24-0 in the first quarter. I entered the game in the second quarter. I wanted to try to score before halftime, put some points on the board so the team could feel a little better about themselves. We hadn't done anything for a quarter and a half. I wanted to see if they were going to change what they did defensively. Are they still going stay with that man-to-man? Or are they going to go zone and make us eat time off the clock if we were able to drive down the field and score? They stayed with what they were doing. I couldn't believe it. They gave us some opportunities to make big plays.
We got a field goal and everybody was like. "O.K. we're on the board. Let's just keep it rolling." Then they turned it over to us and all of a sudden it's 24-10. There's a little bit of light at the end of the tunnel. We were all feeling a little better at that point, but not expecting what was going to happen right before the half.
Every Tuesday, the offense would go through our audible system. We'd go to the line of scrimmage and call one basic play and then check out of it to make sure everybody knew what they were doing. We would then run all the special plays. The flanker reverse. The slot reverse. The flea flicker.
We get to the game and there are a few seconds left before halftime. It's too far for a field goal. I go to the sideline and I remember Coach (Don) Shula asking what I thought. I told him that we can't run an out pattern along the sideline because they're guarding that with their man-to-man coverage. I said we could "Hail Mary." Well, just out of the blue, he says, "How about 'Circle Curl Lateral?' " That sounded good to me.
I knew we had to do it on the right side of the field because their cornerback (Willie) Buchanon was more aggressive than the corner on the other side. We needed the guy to bite on the cheese to make the whole thing work.
So we went "87 Circle Curl Lateral" and Tony (Nathan) snuck out the left side and came back underneath across the field. Duriel (Harris) caught it and looked like he was going down and pitched it to Tony. Then there was all bedlam. Every team from junior high school to the NFL has it in their offense, but it's hard to believe when it actually works. It turned the game around. It was so loud at that point it was unbelievable.
In 15 years, it was the only time Don Shula didn't say anything at halftime. Everyone was exhausted and he didn't say a word. They said there's two minutes left in halftime and Shula just told us that we get the ball and let's go down there and score. That's all he said.
I've got to give credit to the defense for keeping us in the game. They gave us the opportunity to get the ball back. The defense stopped them on some three-and-outs in a row. With that offense, it was not the easiest thing in the world. They just kept getting us the ball back. There was no way we were going to come back without that.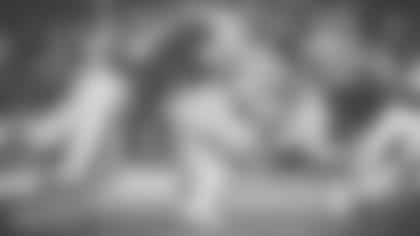 We actually went ahead in the game 38-31 at one point in the fourth quarter. We had a chance to ice it, but Andra Franklin fumbled down inside their 20. It gave them the opportunity to come back and they tied it. We got down into a position to score again. We had a field goal at the end of the game that could have won it for us. I knew it wasn't good immediately. I was the holder and when the kicker kicks sand in your face, it's not a good sign that the ball's going to get up over anybody. It was tipped by Winslow.
It went to overtime and both teams had chances and missed field goals. They ended up making a field goal and won the game.
If you watch the game, you'll see some plays that guys made that they hadn't made before in their careers. Bruce Hardy outran a guy who ran a 4.5 (second) 40-yard dash for a 50-yard touchdown and we know that isn't possible (laughs). It was the first time that two quarterbacks each threw for more than 400 yards in a playoff game and set records for points scored.
To get that close and not win was disappointing. I know that all the guys who played in that game gave a winning effort. It was just a shame that anybody had to lose the game. We gave it our best shot and just came up short. To come back the way we did as a football team was pretty amazing when you think about it. It's turned out to be a classic.