Each week, "In My Own Words" looks back at a past game against the week's opponent through the eyes and words of a Dolphins player who played a key role in that game. This week, former Dolphins wide receiver Nat Moore takes us back to Nov. 4, 1984, when, following his 20-yard reception, he was hit by a pair of New York Jets defenders and spun through the air like a helicopter to help propel the Dolphins to a 31-17.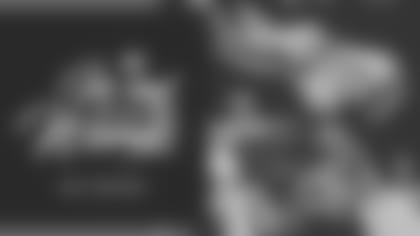 The Jets were always are our rivals. They were the team that, no matter what their record was, they were going to play us tough. There was so much smack (talking) going on in the offseason because of who won or lost the previous season. It just made those games more eventful. 
Everybody wants to play in New York. Playing in New York or playing against a New York team was special. You really wanted to get your game up for that. You know, the one I broke my leg, it was against the Jets in New York. But, more times than not, I was able to have big games and win more games. It was just making sure that when we played the Jets, we played well. Think about it. In South Florida we have a zillion New Yorkers here. This is where they come when it gets cold up north. When they decide to leave New York and move to warmer climate they come to South Florida. So it is extremely important when we're planning against them that we play well and we get the victory.
Sunday Night Football is always special. You want to make sure you play your best on Sunday night strictly because it's the only game in town. Everybody's watching, including the other teams across the league. It was just something about Sunday night that the intensity went up and the crowds were electric.
The Dolphins came into that game with a 9-0 record. When I think about the Miami Dolphins back in those years we had the ability to put up points with (Mark) Duper, (Mark) Clayton, (Dan) Marino, Joe Rose, Jimmy , Bruce Hardy, Dan Johnson, Bruce Hardy Dan Johnson, Jim Jenson and Tony Nathan. You name it. Marino had weapons. It was just a matter of who.
In the game. We jumped out to a 7-0 lead on my 37-yard touchdown catch. Honestly, I don't remember a whole lot about that touchdown. I had quite a few touchdowns against the Jets. Going up against the Jets was about staying focused time after time again. If I got ahead of myself or I start thinking about things that weren't relevant to that point in time then I was probably going to make a mistake or screw something up.
The touchdown was on third down. I had some success on third downs. I was willing to accept that job. Winning football is about doing what's asked and doing what's needed by the coach. When I first came in the league, I was the leading receiver on the team. I was a guy that they wanted to get the ball to. At some point, you get guys that are good at doing that as well, but they need you to be that guy that can move the chains. They need to be that guy who can read the defense and make sure that you can find that hole to get open. I think my knowledge of offense and reading defenses gave confidence to Dan (Marino) and Bob (Griese) that they believed that was going to get open.
In the third quarter, we're trailing 10-7 and I caught a pass from Danny for 25 yards and a first down, but I fumbled on the play. I cannot say publicly what Coach (Don) Shula said to me. He got his point across. He made sure you understood that making mistakes and putting the ball on the ground and hurting your team was unacceptable. I think a lot of players became better players because of the way he drove us to perform. After I fumbled the football, the last words he said to me, and I can say this publicly, was that it would have been better off if I didn't catch it because then we could have punted it away.
On the next drive, William Judson blocked a field goal and we got the ball back on the 18-yard line. We drove it down the field and Marino hit me for 20 yards. After the catch, I got spun around in the air by Ken Schroy and Kirk Springs. It became known as the helicopter catch. We had run the same identical play when I fumbled the ball before (87 Go). This time, I've got a chance to score. I'm going to go up and over Schroy. I see him at the 5-yard line. I'm going over him and am going to fall into the end zone. Then what will Coach Shula have to say? True enough, I start over his shoulder. I'm halfway over but then Springs hits my shoulder. I start spinning. The only thing that was going through my mind was whatever I do, do not let the damn ball go because then I'll have to see Shula again. I was only thinking to hold on to the football. There's no way in the world I was going to have to go see Shula because I fumbled again. Now I've got a chance to make up for it and almost score. When I'm spinning, I'm thinking just to not let it go.
To be honest, I've seen that play way too many times. I'm still grateful that it made me famous. It's a clip that they play all the time so I can't complain. I look at plays like that and I'm getting the notoriety, but there were 10 other guys on that same play who did their job perfectly which allowed me to be able to make that play.