Each week, Dolphins.com looks back at a past game against the current week's opponent through the eyes and words of a Dolphins player who played a key role in that game. This week, former punter Larry Seiple takes us back to Dec. 31, 1972 to the AFC Championship game at the Pittsburgh Steelers. With the Dolphins trailing 7-0 in the second quarter on a fourth-and-five from the Steelers 49-yard line, Seiple went back to punt, but ran the ball 37 yards for a first down to set up the first score of the game for Miami. Quarterback Bob Griese came off the bench in the 7-7 battle in the third quarter after 10-game absence and rallied the Dolphins to a 21-17 victory to repeat as AFC Champions and continue the perfect season.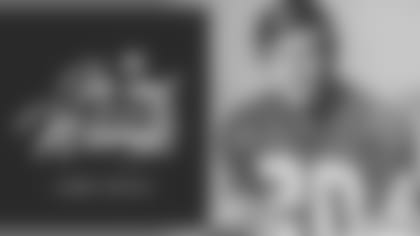 Even though we were an undefeated team, we had to go on the road for the AFC Championship. Back in 1972, there was no rule that they have now where the team with the best record has home field advantage. It was alternated between divisions as far as who was going to host the AFC Championship so we had to go to Pittsburgh. We knew how good the Steelers were and traveling to face them was a tough deal. 
We expected it to be cold, but we get up there and it's 62 degrees. We were happy as hell. We thought the weather made everything equal because they were a pretty good defense and we had a pretty good offense.
Three Rivers Stadium was loud. It was kind of scary as you walked on the field. The closer we got to kickoff the louder the fans got. We knew it was going to be a tough thing for us to walk in there and win the game.
Early in the game, the Steelers had the ball third down from our 3-yard line. Jake (Scott) hit (Terry) Bradshaw. Jake made a heck of a play on the quarterback and knocked him out of the game on that play. Bradshaw fumbled the ball into the end zone and one of their guys jumped on it. We just weren't quick enough to get to it. It's disheartening to know they didn't really deserve a touchdown, but they got it anyway. So now we're down 7-0. 
In the second quarter on fourth-and-five, I went back to punt and was able to run the ball 37 yards for a first down. I always said, "Thank God" it worked. If it hadn't, I'd still be walking back to Miami. Coach (Don) Shula and Coach (Carl) Taseff both took me aside during that week and showed me what Pittsburgh did on punt returns and what they had planned for it and when they were going to do it. It wasn't on a whim. It was going to be when Coach Shula would call it.
On the punt, there was a hole so big anyone could have run through it. Everybody on the Steelers went to our left (their right) and Preston Pearson was the lone man who came in and rushed. Bob Matheson blocked him and there was nobody else there. All I saw was green grass and I took off. Thank God I made it. It helped get us down to at least score and hopefully win a ballgame.
It was supposed to be called by Coach Shula, but I didn't wait for him to call it. It was one of those things that you know if you're going to do it, you better make at least the first down. I had no idea I would get as far as it did. I was worried about just getting six yards so we had a first down. That's all I was concerned with.
Coach Shula really didn't say too much when I got to the sideline. He kind of smiled and said something to the effect that I thought you were going to wait for me to make the call. But, he was happy with it. He always told me that you can do it just as long as you make it and that was the end of it.
It was great to set up a score, but it made me really feel just as good to see (Larry) Csonka catch the ball for a touchdown. He was he was known for stone hands. He couldn't catch a cold, but he caught that one and just walked in the end zone. I thought it was great now that we had a tie score and see what we can do from there.
Coach Shula told everybody at halftime that we're going to sit (Earl) Morrall down and bring in Bob Griese. Everybody was kind of buzzing around about that. Earl was very disappointed. He thought he'd gotten us there and we wouldn't be in the championship game without him. We knew that, he knew that, and Shula knew that. Making that decision was a tough one for Don because he and Earl went way back to Baltimore together.
When you get right down to, Griese coming back into the second half hitting (Paul) Warfield on a left slant for 52 yards was the turning point of the game. Bringing Bob into the game gave everybody a little extra boost because we weren't really doing much with Earl and Pittsburgh was a hell of a defense. Bob got us to start moving a little bit and that was a turning point. Shula made that decision to give us a little spark. Having Bob in there took us back to what we were originally when we started the season back in the first game. That was the spark we needed to get ourselves a little bit more motivated than what we were at the time. 
That pass to Warfield led to the first of two touchdown runs by Jim Kiick that gave us a 21-10 lead. Jim was more important than a lot of people may think to the offense. When we had a problem running the ball they gave the ball the Jim Kiick. Jim was an excellent inside runner. He was a hard-nosed football player who deserved what he got.
The locker room after the game was crazy. We're 16-0 and going back to the Super Bowl. We were going nuts because we couldn't believe we went all the way through the whole year undefeated. Everybody was just having a great time later on the plane. Walking around and congratulating everybody. It was just a great feeling knowing you're going into the Super Bowl undefeated and you're going to play Washington.
Crowds were waiting for us at the airport back in Miami. But after we beat Pittsburgh it was three times the amount of people there. You couldn't even get down off the plane and get to your car to get out of there. It was so crowded. It was great for the fans. It was great for the players to see it. You know we just appreciated it so much.