Before we break down the Dolphins' Thursday night history, let's examine **Kenyan Drake's** long touchdown run in statistical terms.
Drake's 54-yard touchdown in the fourth quarter marked the fourth time in his three-year NFL career he scored on a run of 40 yards or more. That already has tied him with Mercury Morris for second-highest number of 40-yard-plus touchdown runs in Dolphins history.
The only Dolphins running back with more touchdown runs of 40 yards or longer is Ricky Williams, who did it eight times.
As a team, the Dolphins are tied with the Kansas City Chiefs for the most runs of 40 yards or longer since the start of the 2016 season with 10. Drake has five of them, the one this season, three in 2017 and one in 2016. Jay Ajayi had four in 2016 (tying for first in the NFL) and Damien Williams had one last season.
Besides the 54-yard touchdown against Detroit, Drake's long runs since joining the Dolphins as a third-round pick in 2016 were a 45-yard touchdown at Buffalo as a rookie, and runs last year of 42 yards against Oakland, 66 yards (for a touchdown) at Carolina, and 42 yards (for a touchdown) against Denver.
Moving on to the Thursday night rundown, the Dolphins are getting ready to play a Thursday night game for the seventh consecutive season and the 14th time in franchise history.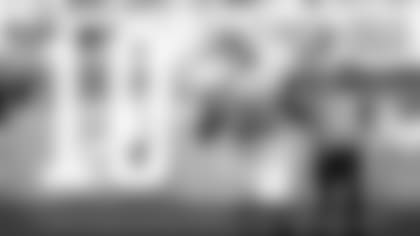 It will be their fifth Thursday night game in October; they've played six Thursday night games in November and three in September.
The Dolphins will bring a 6-7 all-time record in Thursday night games into the game at NRG Stadium. The Dolphins are 5-2 in Miami in those games and 1-5 on the road.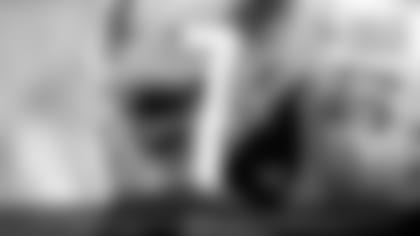 Five of the 13 games were decided by seven points or less, including the thrilling 22-20 overtime victory against Cincinnati on Halloween night 2013. The Dolphins have won three of the five close games; they are 3-5 in games decided by more than seven points.
The Dolphins first played a Thursday night game way back in 1979 and did it again in 1980 and 1981. That would be it for the Dolphins on Thursday night — except for one game in 1990 — until they opened the 2006 season against the defending Super Bowl champion Steelers at Heinz Field.
The Dolphins' most lopsided victory on Thursday night came all the way back in 1981 with a 30-10 victory against Pittsburgh in the second week of the regular season.
Interestingly, this will mark only the fourth time in 14 Thursday night games the Dolphins will come in following a loss.
In terms of individual performances, the Dolphins have had two 100-yard rushing games on Thursday night, one of which came in the Cincinnati game in 2013 when Lamar Miller gained 105. The other was provided by Ricky Williams in 2009 when he rushed for 119 yards and two touchdowns in a 24-17 victory against the Carolina Panthers.
Williams' former backfield partner Ronnie Brown also scored two rushing touchdowns in a Thursday night game (in 2006 against the Steelers), but the Thursday night best was authored by Larry Csonka, who had three in a 39-24 victory against New England in 1979.
Perhaps because Dan Marino played in only one Thursday night game — the 17-10 victory against New England in 1990 — the Dolphins haven't had many big passing performances on Thursday nights.
**Ryan Tannehill** has the Dolphins' highest passing yardage total in a Thursday night with 300 in the loss at New England in 2015. Tannehill is also the only Dolphins quarterback to pass for more than one touchdown in a Thursday night game; he had two TD passes in a 22-9 victory against Buffalo in 2014.
Running back Tony Nathan has the one 100-yard receiving game for a Dolphins player on a Thursday night, that coming in 1980 when he caught seven passes for 102 yards in a 27-24 overtime loss against the San Diego Chargers.
The Dolphins' longest pass play in a Thursday night game was the 74-yard hook-up between Tannehill and **Kenny Stills** at Cincinnati last season, which topped a 52-yard completion from Daunte Culpepper to Marty Booker in the 2006 season opener at Pittsburgh.
On the other side of the ball, the Dolphins have had memorable performances on Thursday night.
Wake's sack in overtime won the game for the Dolphins against Cincinnati in 2013 and was his third of the night, the most ever by a Miami player on Thursday night. Hugh Green and E.J. Junior each had two against New England in 1990, and Joey Porter also had two in the victory at Carolina in 2009.
In that Cincinnati game in 2013, Brent Grimes had a 94-yard interception return for a touchdown, the longest Dolphins return on Thursday night.
While tackles are not considered an official stat, safety **Reshad Jones** had a big night in that department in the Dolphins' first Thursday night meeting against the Bills in 2012 with 14, unofficially a Dolphins record for Thursday night games.
Finally, we move to the special teams, where the Dolphins have made their share of big plays in Thursday night games, starting with two kick returns for touchdowns.
Tom Vigorito had an 87-yard punt return for a score in the victory against Pittsburgh in 1981, and Marcus Thigpen had a 96-yard touchdown on a kickoff return in the game at Buffalo in 2012.
Dolphins In Thursday Night Games (6-7)
Table inside Article

| Year | Opponent | Result |
| --- | --- | --- |
| 2017 | at Baltimore | L 0-40 |
| 2016 | at Cincinnati | L 7-22 |
| 2015 | at New England | L 7-36 |
| 2014 | Buffalo | W 22-9 |
| 2013 | Cincinnati | W 22-20 (OT) |
| 2012 | at Buffalo | L 14-19 |
| 2010 | Chicago | L 0-16 |
| 2009 | at Carolina | W 24-17 |
| 2006 | at Pittsburgh | L 17-28 |
| 1990 | New England | W 17-10 |
| 1981 | Pittsburgh | W 30-10 |
| 1980 | San Diego | L 24-27 (OT) |
| 1979 | New England | W 39-24 |