A look at new Dolphins quarterback Josh Rosen through a statistical perspective:
Rosen became the 14th quarterback acquired via trade in Dolphins history.
Rosen had three touchdown passes as a rookie against the Oakland Raiders last season.
Rosen posted a season-best 88.5 passer rating in his first NFL start against the Seattle Seahawks in Week 4.
Rosen had three games when he completed 63 percent or more of his passes last season, including a season-high 67.7 percent against the Minnesota Vikings in Week 6.
When he was selected 10th overall by the Arizona Cardinals in 2018, Rosen became the fourth UCLA quarterback to be a first-round pick, following Troy Aikman (1989), Tommy Maddox (1992) and Cade McNown (1999).
He left UCLA after three seasons with the school marks for most games passing for 350 yards or more (10), most games passing for 300 yards or more (17), most games with 350 or more yards of total offense (11) and most consecutive games throwing a touchdown pass (14).
In his final year at UCLA in 2107, he helped engineer the **largest comeback in school history** with a 45-44 victory against Texas A&M after the Bruins trailed 44-10.
Rosen led the Pac-12 in passing yards per game average (341.5) and total offense per game average (332.6) in 2017.
He set school records for highest passing yards average per game (341.5), most games passing for 350 yards or more in a season (6), most games passing for 300 yards or more in a season (7), most consecutive games of 300-plus yards in total offense in a season (5), most consecutive game passing for at least 300 yards in a season (5) and most games with 350 yards or more of total offense in a season (6).
Against Stanford in 2017, Rosen tied the school record with 40 completions.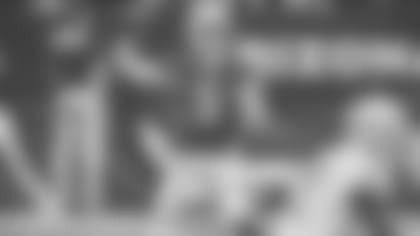 Rosen had nine games with three or more touchdown passes at UCLA, including a high against Hawaii in 2017.
Rosen had 17 300-yard passing games at UCLA in 30 starts.
Rosen had six 400-yard passing games at UCLA, including five in 2017. His career high was 491 against Texas A&M that season.
At Saint John Bosco High in Southern California, Rosen was ranked at Scout's No. 1 quarterback recruit.