Guard Jermon Bushrod was recognized Thursday as the winner of the 2017 Good Guy Award.
The award is handed annually by the South Florida chapter of the Professional Football Writers Association to the player who best exemplifies professionalism in his dealings with the media.
The Good Guy Award first was given out in 2001 to linebacker Zach Thomas. Safety Michael Thomas won the award in 2016.
"I appreciate you guys always being very respectable, very good to me," Bushrod said. "Wherever this journey takes us, I do appreciate the image you portrayed of myself and this team for the most part."
Bushrod was placed on injured reserve last week because of a foot injury he sustained in the Nov. 19 game against the Tampa Bay Buccaneers.
Because of his injury and because he contemplated retirement two offseasons ago, Bushrod's future has been a topic of speculation, but he hasn't made any decisions yet when it comes to 2018.
"We'll really figure it out after the season," Bushrod said. "I can tell you how I'm feeling right now, then you ask me tomorrow, I'll probably tell you a different thing. As we are right now, I'm just worried about getting myself feeling better and then we'll really kind of assess all of that in the near future."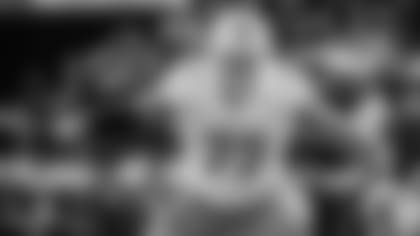 Right side's all right: Since Bushrod has joined right tackle Ja'Wuan James on the sidelines, the Dolphins have been using Jesse Davis at right guard and veteran Sam Young at right tackle, with respectable results. Head Coach Adam Gase said that's a tribute to the chemistry Davis and Young were able to quickly achieve. "Those two guys seemed to connect quickly, play well together and they did a good job of learning quickly what they were going through," Gase said. "Whatever it is, they just clicked really quick."
Consistent inconsistency: The Dolphins coordinators — Clyde Christensen, Matt Burke and Darren Rizzi — held their final weekly media sessions of 2017 and the theme of consistency was prominent as all three addressed the highs and lows of the season. Christensen, as he so often does, found a unique way of explaining things. "The inconsistent NFL players they have a name, right? Graduate students," Christensen said. "They're back in school somewhere. That's their name. That's the truth. Inconsistent coaches, you know what they are? They're State Farm agents."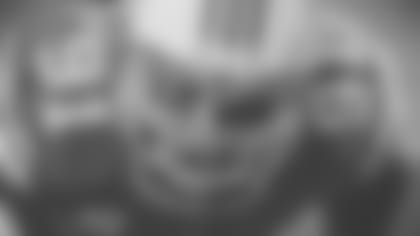 Beyond the numbers: Defensive end Cameron Wake needs one sack in the season finale against Buffalo to reach double digits for the fifth time in his nine-year NFL career, but Burke says the sack total alone doesn't do justice to Wake's effectiveness in the pass rush this season. "Cam has had a good season," Burke said. "Cam's disruption numbers are really high actually in the league. He's one of the top 10 in the league, I think, in terms of our disruption numbers. He's obviously got nine sacks, but he has a bunch of caused holding penalties and pressures and QB hits and all those sorts of things, batted balls and whatnot. That's been a positive."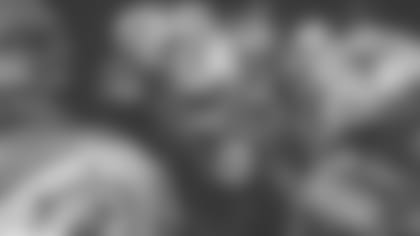 Throwback time: Just as they did for the Monday night game against the New England Patriots, the Dolphins will be wearing their throwback uniforms for the season finale against the Buffalo Bills. The one twist this time is that Buffalo also will be wearing old-school uniforms in this game. "It's a good changeup for us," Head Coach Adam Gase said. "It's a fun experience for the players, especially when the other team does the same thing."