The day after what was a disappointing performance by the Dolphins, Head Coach Adam Gase said there was no great secret to what the team needs to do to get back on track.
"Well, we did a bad job of executing quite a few calls, which is obvious when you look at the numbers and score," Gase said Friday afternoon, some 15 hours after the end of a 42-23 Dolphins loss against the Houston Texans at NRG Stadium. "Anybody with the naked eye can see things weren't quite right. We have to do a way better job of doing what we're asking players to do. We have to do a better job of coaching it. Really, the simplicity of it is we have to do what we're asked to do and we have to do it correctly, and it has to be 11 guys doing that."
The Dolphins allowed Houston five touchdown passes and 188 rushing yards, one game after they gave up 248 against the Detroit Lions.
Gase said the blame shouldn't be placed solely on one position, nor is it as simple as suggesting the Dolphins are losing the physical battle at the line of scrimmage.
"If you have 11 guys that are doing close to what you are asking them to do, then you can start looking into physical limitations or who do we have to protect or what do we have to do better," Gase said. "But when you don't execute anything right, it's hard to evaluate that. That's where we have to do a way better job of doing what we're coached to do and then if we actually do do the right things, then we have to adjust and figure out where's our strengths, where's our weaknesses and now we have to adjust to that."
Ryan report: Gase provided a progress report of sorts on quarterback **Ryan Tannehill**, who continues to try to work his way back from a shoulder injury he sustained in the Week 5 game against the Cincinnati Bengals. "He's going through a good process right now," Gase said. "I haven't gone down there to watch him do anything. The trainers talk to me. It sounds like we're close to the stage where we could get to that point where he could start throwing soon." Gase did not have a timetable for a possible return and emphasized that the priority is trying to ensure that Tannehill, who has missed the past three games, does not have a relapse.
Resilient receivers: With **Albert Wilson** on injured reserve and **Kenny Stills** sitting out the game with a groin injury, wide receivers **Danny Amendola**, **DeVante Parker** and **Jakeem Grant** all got extended playing time. Actually, they played almost every snap on offense — Parker played all 66, Amendola played 65 and Grant played 63. Gase said the three handled the work load admirably. "I thought they did a good job of being in good shape to where they could go that long," Gase said. "Obviously, getting Kenny back at some point, that's going to help us with our play count. We'll be able to kind of move some things around. I know for the most part, most receivers would rather do that and play the whole game." Parker was perhaps the Dolphins' most impressive player Thursday, finishing with six catches for a career-high 134 yards.
TD throwers: In case you missed it, the Dolphins made NFL history Thursday night when Danny Amendola threw a 28-yard touchdown pass to running back **Kenyan Drake** in the third quarter. It made the Dolphins the first team to have two wide receivers throw a touchdown pass in one season (Albert Wilson threw a touchdown pass to Jakeem Grant against Oakland). Additionally, Amendola joined Wilson, Ryan Tannehill and **Brock Osweiler** with a touchdown pass for the Dolphins this season, tying the franchise record for most players throwing a TD pass in the same season. The record of four first was set in 1966 (Dick Wood, George Wilson, John Stofa, Rick Norton) and tied in 1983 (Dan Marino, David Woodley, Don Strock, Mark Clayton), 1993 (Marino, Scott Mitchell, Steve DeBerg, Keith Byars) and 2009 (Chad Henne, Chad Pennington, Tyler Thigpen, Ronnie Brown).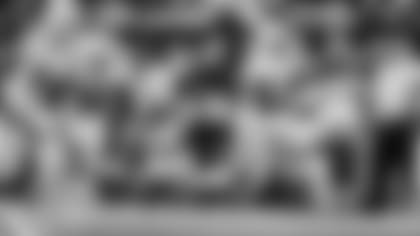 Final thought: Gase wrapped up his day-after-the-game conference call Friday by offering a simple plan to end the Dolphins' current slid: "Go back to work. Basically, we've got a chance to kind of regroup, refresh, get our minds right, fix the things that we need to fix as far as the coaching staff of putting time, looking at the film, going back through this first part of the season, figure out where our issues are, correct those, make adjustments that we need to make, and then when we hit Wednesday with our players, we have to have a good plan in. Our players have to come in, they've got to be hungry, they've got to be ready to go. We have to have great meetings; we have to have a great week of practice. And then when we get to Sunday, we've got to turn it loose and we have to execute what we're asking them to do. It's going to take the coaching staff and the players to basically just put their head down and grind through next week and get to Sunday and have to come out with some kind of edge on Sunday to say, 'What's happened the last three of the last four weeks is not going to happen anymore. We need to find a way to win a game.'"