Amid all the speculation about the Dolphins possibly being interested in taking a quarterback early in the 2018 NFL draft, General Manager Chris Grier reiterated Wednesday what Head Coach Adam Gase said earlier in the offseason: Ryan Tannehill will be the team's starting quarterback in 2018.
"Ryan Tannehill is our quarterback," Grier said during his annual pre-draft press conference alongside Executive Vice President of Football Operations Mike Tannenbaum. "We feel good about Ryan and we're excited to have him back. For us, and you've heard this before, (it's about) competition. We'd love to draft (someone) at every position, it doesn't matter who it is. So for us, if we can come out and find one, then yes, but we're not going to reach or overextend for something."
Tannehill, who missed the entire 2017 season because of a knee injury, has been busy this week with Phase One of the offseason program and he remains on track to be on the field when OTAs start in five weeks.
Four quarterbacks — Sam Darnold, Josh Allen, Josh Rosen and Baker Mayfield — have been mentioned as possible top-15 picks in the 2018 draft. Grier said all of them would need some development time.
"I think for us, the good thing here is the guy is going to come in and Ryan Tannehill is the starter," Grier said. "So you're going to sit and learn behind Ryan and compete with Ryan, but at the end of the day, Ryan is our starter, and he's going to get a chance to learn."
Keeping options open: Part of the draft speculation involving the Dolphins involves the possibility of a trade up in the first round. Tannenbaum raised another possibility Wednesday, one that's the polar opposite. "I was joking with Chris about this that if you have the 11th pick, there are eight guys you love," Tannenbaum said. "If you have the eighth pick, there are five (guys you love). That's just one of the axioms. Maybe we wind up trading back. You never know. I think we feel really good about our preparation. We'll see how it unfolds when we get to 11." The Dolphins moved back in the first round two years ago when they sent the eighth overall pick to the Philadelphia Eagles for the 13th pick, along with linebacker Kiko Alonso and cornerback Byron Maxwell.
Draft flashback: Speaking of trades, Grier indicated that two teams called the Dolphins before they selected defensive end Charles Harris at No. 22 in the first round last year, both hoping to jump into their spot. "We had two guys targeted at our pick and we ended up with Charles, and Charles was the higher one," Grier said. "We felt good about it. We were going to make the pick and we got two calls from teams below us that did very well last year (and they were) calling to trade up for the pick. In the end, they told us it was for Charles. For us, he was the guy we were going to take, so we were happy to get him. At the end of the day, when it gets there, you'll always have two or three guys you like and you make that decision on which one fits best." 
Gase watching: Making the draft selections is a collaborative effort among Tannenbaum, Grier and Head Coach Adam Gase, though Gase really doesn't dive into the scouting aspect of things until after the regular season. Once he gets started, though, he certainly does his due diligence. "He'll start coming in our February meetings," Grier said. "He'll come in a little bit and sit in for a little bit. From that point on, he'll ask Mike and I for a list of players. He'll say, 'Hey, give me five players at this position,' and he'll work through it that way. Even now, he's upstairs watching college players right now, still. He's in it heavy."
Holding pattern: The Dolphins signed running back C.J. Anderson to an offer sheet two years ago when he was a restricted free agent, but they didn't get him because the Denver Broncos matched the offer. Now that Anderson is a free agent after being released by the Broncos, it has been suggested the Dolphins could be interested in revisiting the idea of bringing him aboard. Anderson had his first 1,000-yard rushing season in 2017, but his lone Pro Bowl invitation came in 2014 when Gase was his offensive coordinator. "We'll certainly see what happens once we get after the draft with any free agents, and we'll see where we are," Tannenbaum said. "We've got to get through the draft here first. That's the next opportunity and then we'll look at other things once we get through that." The Dolphins already added to their depth at running back with the recent signing of veteran Frank Gore.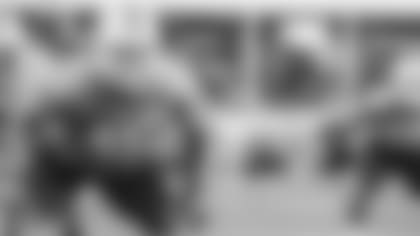 Staying put: Joining Tannehill and his teammates for the offseason program this week was linebacker Mike Hull, who re-signed as an exclusive-rights free agent. Hull appeared in every game the past two seasons and made three starts in 2017. Guard Anthony Steen and running back De'Veon Smith also were scheduled to become exclusive-rights free agents this offseason, but they were not tendered, making them unrestricted free agents eligible to sign with any team.