Family was first when Brian Flores made his initial remarks as the new head coach of the Miami Dolphins.
After being introduced by Owner Stephen Ross and General Manager Chris Grier, Flores immediately pointed out to his wife, Jenny, and three children sitting in the front row of the auditorium at the Baptist Health Training Facility at Nova Southeastern University.
"I do all this for them," Flores said. "Without support of my wife and my family, this couldn't be done."
Flores then mentioned his parents back home in North Attleborough, not far from Gillette Stadium.
"This would not be impossible without my mom and my father," he said. "They've been the rocks for me. My core beliefs, my foundation started with them."
Also in Davie for the press conference Monday was Flores' coach at Poly Prep in Brooklyn.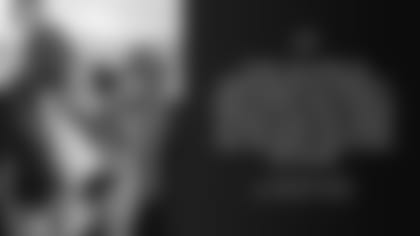 Clear choice: Ross called the selection of Flores as the Dolphins' new head coach "an easy consensus" among him, Grier and Vice Chairman/President/CEO Tom Garfinkel, who together conducted the coaching search. "I think we had a very thorough and very intensive process," Grier said. Grier said there wasn't a specific point in the job interview when he knew Flores was the right choice. "I think it was more for anyone else who didn't know him," Grier said. "When everyone left, they were like, wow, what presence he has in terms of vision and leadership." Grier said the follow-up work of asking others about Flores only confirmed what the Dolphins thought of him.
Hiring history: Flores became the second head coach the Dolphins hired in February; the first one was Don Shula in 1970. Among the 10 full-time head coaches, seven were hired in January and one (Nick Saban) was hired in December.
QB or not QB: Despite suggestions to the contrary, Grier said he would not rule out the possibility of drafting a quarterback this year. "Nothing's out," he said. "We haven't even gone through our process of getting to learn the guys yet. There's a lot of good prospects. We spent some time with them down at the Senior Bowl and there's other quarterbacks that weren't there that people are talking about as well. We've just got to go through and get to know them. We may get through the process and fall in love with a couple of guys. Last year we liked two guys a lot and they both had good success this year. It could be that point where we may say, 'Hey, we feel this is the guy.' "
Grier vision: Grier laid out his philosophy for building a consistent winner, and it includes spending wisely, building from the front out, and having the right mixture of youth and experience. "I've never been one to spend huge money on a guy to come in," Grier said. "To me, I'd rather have three good players than one maybe great player who may or may not impact what you're doing. I'd rather have three good players at positions that are going to help the team win. That's a little bit of it. For me, you build up your offensive line, defensive line. You start there, and then you work and obviously you need playmakers who are going to be impact players. It's just the way how I grew up, how I started, and I just really believe those ways are how those teams win."
Super handoff: Stephen Ross was part of a South Florida contingent Monday morning that took a handoff from Atlanta with the next Super Bowl scheduled for Hard Rock Stadium on Feb. 2, 2020. Joining Ross at the ceremony was Miami Super Bowl Host Committee Chairman Rodney Barreto and Miami-Dade County Mayor Carlos Gimenez. Super Bowl LIV will culminate the NFL's 100th season. "We're very excited to have this game in Miami, anniversary game. Miami was really set up to host major events, and there's no greater event than hosting the Super Bowl and how it brings the community together and the great job the NFL does in really presenting an event unknown to any other place in the world. We accept that challenge, we look forward to it. We have a great team here led by Rodney and the mayor, and we look forward to seeing you all in Miami next February." To celebrate the Handing Off Ceremony, Hard Rock Stadium will be illuminated in the Super Bowl Host Committee colors of pink, blue and gold through Monday evening.